Undocumented: Immigration activist Jose Antonio Vargas visits DePaul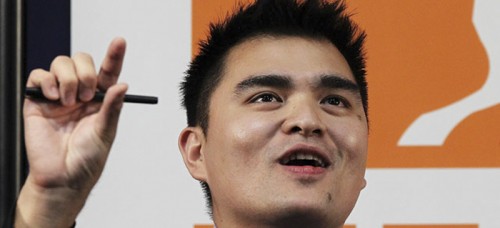 Jose Antonio Vargas covered some of the biggest breaking news stories of the decade. Fresh out of college, he covered the video-game boom in 2004, and in 2007 his coverage of the Virginia Tech shootings earned the Washington Post staff the highest of journalistic honors, a Pulitzer Prize. 
Truth-telling was the foundation of Vargas' career, but behind closed doors he held a personal secret that, after seven years as a professional journalist, became too much to bear.
In June 2011 Vargas published a piece in the New York Times titled, "My life as an undocumented immigrant."
DePaul's Latin American and Latino Studies Department invited Vargas to speak to students last week about his experience and his documentary film, "Undocumented."
The film portrayed his experience and the experiences of some others who arrived to this country "illegally," or so it has been called in past years.
"People who come out risk either deportation or their lives," Vargas said. "I was in the business of writing about the truth and I was lying about who I am. That was very difficult."
"But I had to focus on the work," Vargas said. "I was anxious about making a mistake, I remember thinking that one single correction and they were going to catch me."
The New York Times essay was an opportunity to bring attention to undocumented immigration on a greater scale and to speak for those who "could not write it," Vargas said. He then started the campaign, "Define American," to define what it means to be American so those who live in the U.S. and are undocumented can fight for their rights.
Using the legalization of marijuana as an example, Vargas compared the two issues by saying, "I feel like corporations have more rights than people. They can legalize pot but they can't legalize people? They can fight for animal rights, but people are treated as dogs?"
Vargas said his job as a journalist was to ask both comfortable and uncomfortable questions.
"With this issue, we have been comfortable, we think we know what it is. But we have not awoken to the moral crisis that is happening in front of us," he said.
Elbert Clayton, one of the attendees of the Feb. 26 presentation of the film, asked how this issue could affect the mayor's race in Chicago.
In a race between a Latino candidate and an American native,  Clayton said, "The swing vote will come from the black community."
Black communities fought for their civil rights in history, but the problem with undocumented immigrants, according to Vargas, is that "we are not citizens of this country. The whole system is inadequate."
"I found really interesting that we put sign out of the border saying 'keep out', then 10 yards in what do we say, 'help wanted. Meaning they want our help," Vargas said.
"Can you imagine this country without undocumented labor? It would fall apart. So we can babysit your kids, pick your tomatoes, clean your house, but we can't go to college?" he asked.
In 2013, there were approximately 11.3 million undocumented immigrants, according to Pew researchers.
And now that the legalization of undocumented immigrants has become such a controversial issue, the American public has been witnessing the fight going on between the House and Senate Republican leaders and the president of this country.
President Obama announced an executive order last November, which sought to legalize 4.3 million of the undocumented immigrants in the U.S., and caused a debate that further increased the fight going on between Obama and House and Senate Republican leaders.
The law, according to the U.S. Citizenship and Immigration Services website, requires "certain undocumented immigrants to pass a criminal background check and pay taxes in order to temporarily stay in the U.S. without fear of deportation."
The law was blocked Feb. 16 by a federal Texas judge. The judge was "responding to a suit filed by 26 Republican-run states," according to a Washington Post article, on the following day.
According to the American Immigration Council's website, "due to congressional inactivity on immigration, many have been forced to put their lives on hold."
What Vargas had to say about such obstacle was that, "the Republicans and their extremism are making them to do everything to stop it, but I don't think you can stop progress."
The executive order, similar to the Dream Act initiated in June 2012, would also be able to give jobs, credit bank accounts and different opportunities to those who have come to the country undocumented, and call themselves the "dreamers."
Many U.S.-born kids come from mixed-status families, meaning families that have at least one undocumented parent. "The dreamers," are the people who have been fighting for their right to legalization or what so many have known as the Dream Act.
The film "Undocumented," which also aired on CNN in June 2014, was supposed to be about the Dream Act, "but ended up telling a different story," Vargas said.
"This is a conversation way beyond pieces of law and politicians. The question is, how do you define 'American?'" Vargas asked.
"Undocumented people have been told we have to earn it," he said. This led him to start his next project, a film that he just finished shooting that will soon air on MTV.
"It is a study of what it means to be white in a country that continues to be less and less white," he said.
"If slavery is this country's original sin, then the original lie is white and black," Vargas said. "And now that the country is more Latino and Asian, we don't fit in this white and black thing you got going on."