Spectator sport: Injured Megan Rogowski of DePaul women's basketball sits out on senior day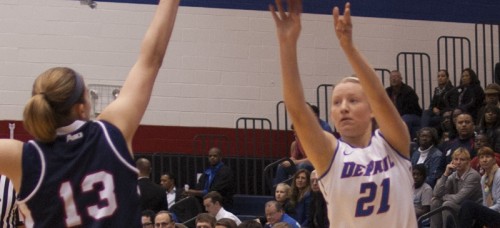 "I really thought that I made it to the end of my career. I really thought I was going to get away with it, but it caught me," women's basketball guard and DePaul senior Megan Rogowski said.
Rogowski was just about to finish her successful college basketball career as one of the best three-point shooters in the country, until she heard the dreaded "pop."
On Jan. 2, 2015, halfway through her senior year, Rogowski was playing in an away game against Villanova and tore her anterior cruciate ligament, commonly known as the ACL. DePaul women's basketball coach, Doug Bruno said he remembers the moment "vividly."
"There was a steal and Brittany Hrynko stole the ball," Bruno said.  "Megan broke for the basket and Brittany threw the ball over the top for Megan to run under, something we practiced in our running game. Megan ran under it and a Villanova player was chasing her down. It was right in front of our bench, she planted and went up and the next thing you know she was down.
"It looked like she got hit, but when you watch it on tape she didn't get hit. It just gave in and gave way and that was the end," he said.
Rogowski had to face the worst news the next day. Rogowski and the team were at Georgetown for another game when the team trainer was able to get in contact with the Washington Wizards doctor to get an MRI, which confirmed the tear.
Since then, Rogowski has been sidelined, unable to play in games or practice with her teammates. The injury took being able to play in her senior day game away from her, a day she had been looking forward to her entire college career.
"I do feel a little bit more distant knowing that I'm not able to be next to (my teammates) playing, but I try to be there for them as much as possible," Rogowski said. "They are there for me and they are always there encouraging me and giving me words of wisdom."
Rogowski said the hardest adjustment is not being on the court to help. Rogowski was DePaul's best sharpshooter last season, ranking third in the country in three-point percentage at 45 percent.
"It's been really difficult," Rogowski said.  "Obviously games are the worst because that's when you want to be out there the most and its terrible sitting in practices as well. I just want to be out there with my team wanting to help.
"I've been able to figure out what I can do on the sidelines and fill a role, which I'm used to filling out on the court, but now I have to do it from the sideline," Rogowski said. I've figured out what I need to do and I've been doing a decent job at that."
Rogowski said that when the injury happened she knew it wasn't good and she had a strong feeling she tore it.
"I know just because of the way my body went and when I was on the ground. It wasn't really painful at first, but I wasn't really thinking long term. But as I was lying there for a minute I was like 'oh my god' because I knew I was going to be out for a long time," Rogowski said. "I was still hoping for nothing too serious, but I still prepared for the worse."
Even though she is unable to play, her teammates are still very supportive. Rogowski said that not being able to play with them is like "being in a different world." The injury has also caused Rogowski to reconsider her plans after she graduates.
Rogowski said she is still considering playing professionally overseas after college professionally. But she said she is also ready to "move on" and hopes to find an internship that will lead to a job.
Teammates like Brittany Hrynko, also a senior, said it was really hard for her and the rest of the team to know Rogowski was going to be done for the season. But Hrynko said they didn't let Rogowski's injury hold them back.
"We miss her but at the same time there's nothing we can do about it," Hrynko said. "We can't change it and bring her back, so we have to stay focused and just play for her."
At the same time, there's no doubt of the significance of losing a close teammate just before the end of their college career.
"Rogowski is a great shooter," Hrynko said. "I don't think we have anybody on the team as great as Megan for shooting a three. She was good at getting open and good at the little offensive things she did. Once a good shooter goes down like that, that we have had since freshman year it is just like who steps up and plays that position? I mean we can all step up, but none of us are Megan."