The Ray at DePaul goes to recess with Retro Sports Night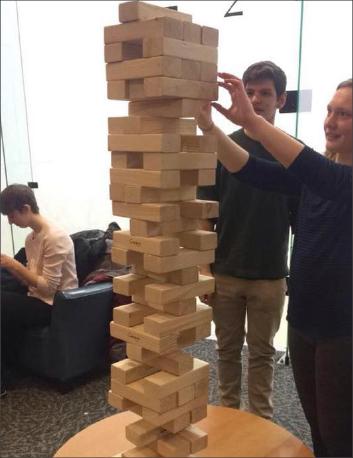 Last Thursday night, the Ray hosted the first ever Retro Sports Night. Organized by the DePaul Activities Board, the event lasted from 8 p.m. to midnight, and offered activities ranging from Mario Kart to swing dancing and dodgeball.
The full list of activities included a knockout competition, skip-it competition, dodgeball, double-dutch, tetherball, Kan jam, four square, bingo, giant Jenga, Wallyball, swing dancing, Mario Kart, Mario Party and canvas bag decorating, as well as a raffle.
The event was managed by EDGE, a DePaul work-study group offered to freshmen. "Within the first hour we had almost 100 people," Jazmin Nevarez, one of the students working for EDGE, said.
Among giant Jenga towers crashing to the floor and heated games of Mario Kart, there were also opportunities to get involved further in DePaul activities. The Ignite Dance Company was present, getting the word out about DePaul's  competitive dance company.
Alyssa McHugh, as well as four other members, were spreading the word as they represented the dance company as well as helping organize the giant Jenga towers. "I did competitive dance all through school, and when I got to DePaul I found myself missing that," McHugh, the founder and president of the company, said. This is the group's first year as a company and will be looking for more members come next year's auditions.
Alongside Ignite was Selina Sepulveda spreading the word about next week's Eating Disorder Awareness Week as a part of Healthy Eating Month that started March 1. Other contributors to making the night a success were the water polo club team, swing dance club and the staff at the Ray.
Phil Marcinek, the assistant director of facilities at the Ray, took his duties a step further and provided the Nintendo 64  used to play Mario Kart. "What's a retro game night without retro games?" Marcinek said as he surveyed an atrium full of students playing bingo, Jenga and Mario Cart.
Marcinek's personal contribution was greatly appreciated by many students, one of whom being Mosses Arevalo who said, "My main reason for coming tonight was Mario Kart to be honest," he said as he watched a heated race and waited for his turn.
Although temperatures were well below freezing, Retro Sports Night saw a strong turnout of enthusiastic students looking to both socialize and win at whatever competition or event they were participating in.
Thursday night's activities were proof that while winter may be lingering longer than anyone would like, DePaul students are still keeping active and occupied. For all those who missed Retro Sports Night, there will be another opportunity to participate in some good-natured after class fun. Table Top Game Night is being held this Friday, March 6, in the Student Center in room 325.