Brittany Hrynko named Big East women's basketball Player of the Year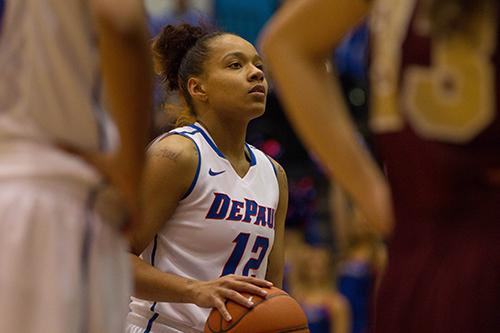 Senior guard Brittany Hrynko capped off her final regular season at DePaul Sunday by cutting down the nets after a win over Marquette gave them a share of the Big East Conference title. Two days later, she was honored individually as Big East Player of the Year for playing a large part in leading DePaul to the title.
This is the first time a DePaul player has been named Big East Player of the Year for women's basketball and the first time since the 1995-96 season that a Blue Demon has been honored as the top conference player, when DePaul was in Conference USA.
Hrynko averaged 20.3 points a game this season and 21.9 points in conference play, which led the Big East. She also led the conference in steals with an average of 2.6 per game, although she reached her career high with eight against Providence.
In addition to being named Big East Player of the Year, Hrynko was also unanimously selected to the All-Big East first team, her fourth straight year earning an all-conference accolade. Junior guard Chanise Jenkins was named to the second team and sophomore guard Jessica January was an honorable mention. Freshman forward Mart'e Grays was named to the All-Freshman team.
The Blue Demons finished the regular season 23-7 and 15-3 in the Big East and will be the No.2 seed going into the Big East tournament March 7-10 at Allstate Arena.