DePaul Theatre School alumnus Kay Kron finds place with poetry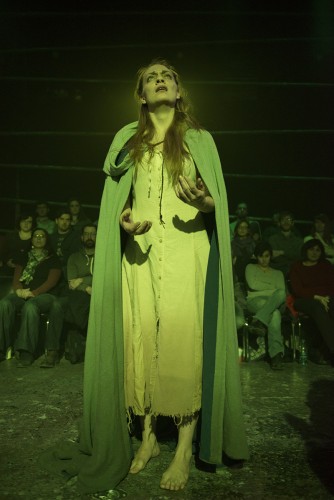 Some people get to where they want to be by grabbing life by the bootstraps. Kay Kron, a Theatre School alumna, is reaching for marionettes instead. Kron has come a long way from waiting for CampusConnect to load, moving into Chicago's poetry and theater worlds. She's successfully written and produced plays and is now the head of her own theater company — Rough House.
Kron started her career by first writing poetry and made her way to a coaching position for Chicago's Louder Than A Bomb, the annual youth poetry slam.
"Three years ago, when I was making pizza in Boystown, I thought, 'I should start a team,'" Kron said.
Afterwards, she contacted a friend involved in the program for help to get started. Though Kron doesn't have a team this year, she still supports LTAB.
"I think it's really nice to let kids have a place where they can talk to each other and they're not being observed by too strict of authority figures, a place where they don't have to be censored," Kron said.
Kron competed in both local and national tournaments, one of which was the 2014 SlamMN!'s Valentine's Day Erotica Tournament — an annual three-day festival held in Minneapolis, Minnesota. Her performed poems "Doctor" and "Poem For Greg" have almost 60,000 views on YouTube. Kron has since gone on to write plays for Rough House.
The company produces plays that are puppet and object-based, which means they use a lot of self-made props to tell a story. Kron's play, "Constance and the Perpetual Motion Machine," was produced by Rough House and went on to tour across the Midwest and East Coast.
The play is about a girl named Constance who lost her best friend. During the grieving process she has flashbacks about weird ways the two met, but at the end of each one, her friend dies in a freak accident.
It's not exactly "Final Destination," but a polar bear mauling a person could present its theatrical challenges. Kron says that she doesn't have to worry about whether or not something is too ridiculous for the stage because of her stellar group of visual artists.
"They said 'Kay, it's OK,'" Kron said, "'Write any script you want and we'll find a way to visually represent it.'"
Kron says that from there, the artists bring the play to life using subtleties that hint at what happened in the story. But, when there are so many ways to make cinematic videos at home and upload them to YouTube, it's interesting to learn why Kron felt drawn into theater.
"There's no substitute for the communal catharsis that you get to feel with an audience all in the same room together experiencing the same events at the same time," Kron said. "(In movies) the actors aren't there so they can't respond to the energy you give them."
Kron said when it comes to acting there is something truly satisfying about feeling the energy of the audience. She's gearing up for all the energy she'll need to exert with the preparation for the newest trilogy she's starring in called "The Hammer Trinity."
This won't be Kron's first time playing this role, but it will be fresh set of tour dates and produced by The House Theatre. This particular play is slated to be eight hours long and will have both regular breaks and dinner breaks. But, aside from the audience's attention span, eight hours is a very long time to act.
"We had a preview and the audience was cheering during our final act," Kron said. "They were really trying to help us make it through."
Kron says her biggest inspiration for her work isn't a famous playwright or actor, it's a young director named Marti Lyons.
"She's so articulate and I wish she could just stay with me always and be my imaginary friend," Kron said. "She's so brilliant and smart."
"The Hammer Trilogy" kicks off March 13 at The House Theatre and will run until May 1. If acting is a form of faking it until you make it, Kron is well on her way.