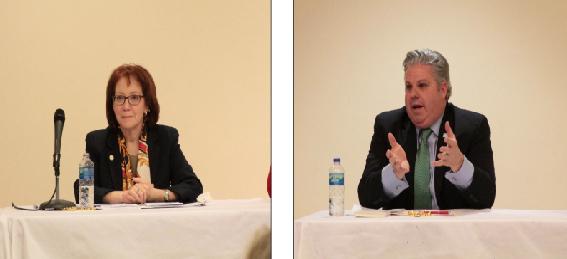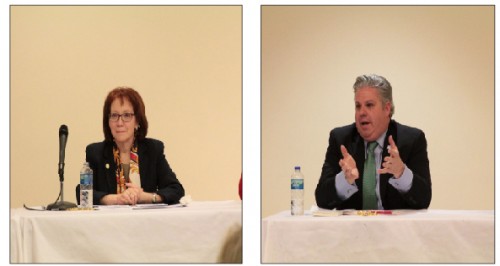 A slew of endorsements are adding new dynamics to the race for 43rd Ward alderman as the runoff campaign between incumbent Ald. Michele Smith and challenger Caroline Vickrey heats up.
Smith received the backing of one of her former challengers, businessman Jerry Quandt, who was knocked out in the first round of voting last month. In the endorsement, the two pledged to partner together for the betterment of the ward.
"I was flattered and inspired that she reached out regarding partnering together. It shows great leadership to identify your areas of opportunity and find the right resources to capitalize on them," Quandt said in a press release from the Smith campaign. "I am encouraged that her approach was not one driven by political gain, but one of genuine desire to make our neighborhood better. Our actions will prove this to be true in the upcoming weeks and months."
Quandt had previously made statements critical of Smith's politics, specifically at the DePaul SGA candidate's mixer in January where he said that, "it's very difficult for (him) to believe that a person who is a rubber stamp alderman for Rahm Emanuel can accurately represent all the people of their ward."
Smith, however, is glad to receive the nod nonetheless.
"Our team recognizes the importance of improving community outreach and we are constantly seeking to improve dialogue," Smith said in the press release. "We recognize there is always room for improvement and we are proactively working to strengthen communications. Working closely in collaboration with Jerry Quandt is just one of many tangible things we are doing to make this commitment real."
According to Smith campaign manager Sean Tenner, Quandt has been a "full partner" in the initiative and the two have been working "closely together every single day" with Quandt particularly helping in his areas of expertise: marketing and communications.
Not to be outdone, however, challenger Caroline Vickrey picked up the endorsement of two former Lincoln Park aldermen not satisfied with the incumbent's upholding of what they call the ward's "long tradition of openness, transparency and independence in its Aldermen."
"Unfortunately, Michele Smith has not honored these ideals," former aldermen Bill Singer and Edwin Eisendrath said in a joint-statement released by Vickrey's PR firm. "Caroline has a long history as a community leader and has new ideas to move the ward forward. We believe that the 43rd Ward will be better served by her dedication to these principles."
These are the first significant moves after Smith and Vickrey placed in the top two in Feb. 24's election. Smith, the leading vote-getter, did not achieve the 50 percent plus one necessary to avoid the runoff election that will be held April 7.
Much of the differences are based on local development in the ward, with Vickrey disagreeing with Smith's handling of the redevelopment of the former Children's Memorial Hospital site and the annex for Lincoln Elementary.
Both were subject to lawsuits filed by organizations that support Vickrey. The case with the hospital was dismissed last month while the suit involving the school annex was thrown out last week. After the ruling was handed down, Smith called on her challenger to drop her opposition to the project "for the good of the community."
"My opponent, Caroline Vickery, has for three years fought the decision of her own local school council and the overwhelming majority of the Lincoln Park community to keep the Lincoln Elementary district intact because she wanted to keep the school small and exclusive," Smith said.
A big wild card in the race is Jen Kramer, the third-place finisher who took nearly 17 percent of the vote, enough to put either candidate over the top. While Kramer's views on the controversial issues of the race seem to align more with Smith than Vickrey, two of her most prominent backers were Eisendrath, now a supporter of Vickrey, and former Ald. Vi Daley, who defeated Smith in a runoff in 2007.
Team Smith is not worried, however, by some endorsements not going their way.
"We knew both sides were going to get endorsements," Tenner said. "We just have a much stronger base of support within the ward."
Tenner went on to say that the campaign is proud of the endorsements they have received, with the big one coming from Emanuel, but also from other former 43rd Ward aldermen Marty Oberman and Chuck Bernardini.   
Several debates have been planned, but nothing has yet been announced.