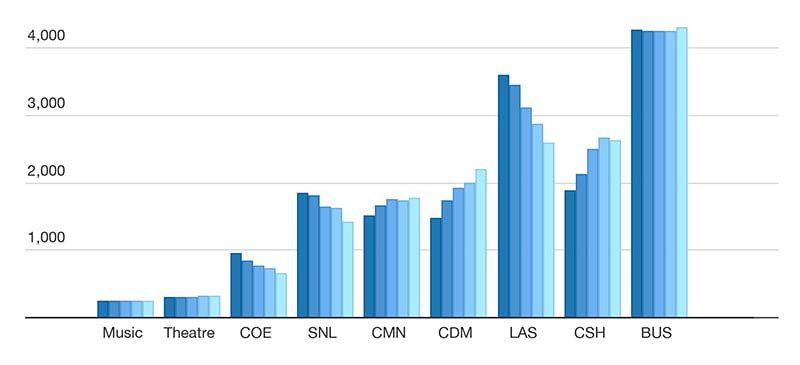 While higher education enrollment suffers nationally, DePaul is no exception. Since 2011, the total university enrollment is down about 6 percent, while graduate and law enrollment have dropped the most by about 15 percent, according to DePaul's 2014 Enrollment Summary.
In 2011, the total university enrollment was at 25,398 and declined to 23,799 by 2014. The business school makes up for 26 percent of enrollment at the university followed by the College of Computing and Digital Media at 18 percent and the College of Liberal Arts and Social Sciences accounting for 15 percent of Enrollment.  The two newest colleges at the university — the College of Science and Health and the College of Communication — account for 15 and 14 percent of enrollment respectively.
Despite relatively steady numbers in the undergraduate programs, several graduate programs have seen major declines in enrollment, ultimately playing a factor in revenue for the university.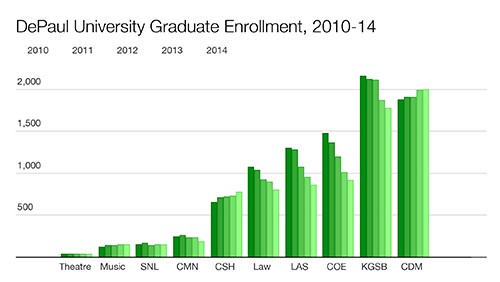 Graduate enrollment
In the United States, graduate students make up about 3 percent of the overall population in higher education, but at DePaul the graduate students make up about one third of the overall population, said Suzanne Depeder, the associate vice president of graduate and adult admission.
However, between 2010 and 2014, the College of Law, Liberal Arts and Social Sciences, Education and the Kellstadt Graduate School of Business have all seen major drops in their graduate enrollment.
"DePaul has been very conservative, doing a couple of things to ward off and be ahead of the curve," Depeder said. "We've been conservative at the graduate level of our tuition increases."
Between 2010 and 2014, the College of Education's graduate enrollment decreased by 37.9 percent from 1,478 to 917 students, according to the 2014 Enrollment Summary. Paul Zionts, the dean of the College of Education, said that they did not have to fire or lay off of any faculty because of the decline. Instead, the college faculty worked to innovate new and adjust current programs to better-fit student needs.
"Across the country, numbers are lower," Zionts said. "Part of it has to do with the shots that teachers are taking from legislators. It takes a special kind of person who wants to be a teacher, so I think that has affected us to a degree."
The College of Education faculty has worked to create new programs in areas such as exercise science, a master's and undergraduate special education, and a bilingual bicultural education minor.
"(The faculty) responded to it beautifully, I don't know if there's anything more that they can do," Zionts said. However, with all the additional time that faculty are putting into new programs to combat declining enrollment, it creates a lot of pressure on faculty.
"One of the most important questions in all of this is what is the effect on our faculty?" Zoints said. "Because there's a lot of stress when you have less students, and there's less job security. Many of the faculty are just stretched to the max, and it's bothersome, it's concerning."
In the business school, graduate enrollment has decreased by 17.4 percent from 2,155 to 1,77 students, according to the report. One reason is that national trends show a decrease in the number of GMAT test takers, Depeder said. However, one major issue is the cost of graduate education compared to undergraduate.
At the Kellstadt Graduate School of Business students paid $980 per quarter hour during the 2013-14 academic year, according to their website. Undergraduate tuition rates for all colleges except music and theatre for the 2014-15 year is $570 per credit hour, according to the website. This means a undergraduate business student would pay $2,280 for each class and a graduate student would pay $3,920 — totaling to $1,640 more for each class at the graduate level.
Also, Law School enrollment is down nationwide and something that DePaul's Law School is experiencing. The College of Law's enrollment has declined by about 25 percent from 1,076 to 802 students from 2010 to 2014.
The interim dean of the College of Law told Crain's Chicago Business in December 2014 that "the school has been hurt because it dropped in national law school rankings."
"You get a reputation as a low LSAT school, and it's hard to dig out of that. The school does not want to hurt its ability to attract students long term," he said.
"Student affordability at the graduate level has seen increased pressure," Depeder said. "We've also seen a continued decline in employer tuition reimbursement programs. But we're starting to see more companies loosen up on that and using them as a way of attracting and retaining talent, so that's a positive indicator."
With that, DePaul launched a Corporate Employer Outreach (CEO) initiative and reached out to large Chicago-based companies that have tuition reimbursement programs. Already in the first year of the program, the university has 10 corporate contracts with companies such as Walgreens, United Airlines, Advocate Health Systems and others. This, along with the Double Demon scholarship, is one of the many initiatives DePaul is adopting to "increase revenue streams and grow enrollment," according to Depeder.
The Double Demon discount, which started winter quarter of 2014, gives DePaul alumni a 25 percent discount on graduate tuition to continue their education at DePaul. Since the Double Demon discount was started, the Kellstadt Graduate School of Business has seen alumni continuing their education at DePaul in a masters program increase from 6 to 13 percent.
"We really have bucked some trends by increasing enrollments, and we're thrilled about it," Zionts said.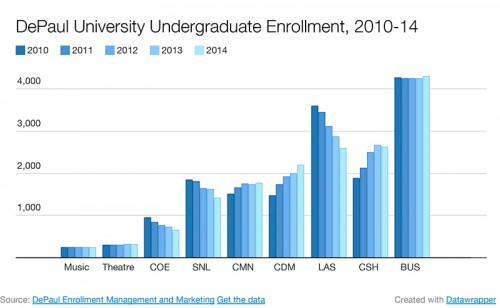 Undergraduate enrollment
On the undergraduate side, DePaul is able to maintain steady enrollment in most programs. However, some colleges are struggling to attract consistent numbers. From 2010 to 2014, the biggest decline was in the College of Education at 30.8 percent from 954 to 660 students. That was followed by Liberal Arts and Social Sciences at 27.6 percent, which went from 3,588 to 2,597 students, and the School of New Learning with a 22.5 percent decrease from 1,835 to 1,422 students.
Last year, DePaul's freshman admission rate was 10 percent higher than in 2013 — 13,649 students in 2014 compared to 11,948 admitted in 2013. Jon Boeckenstedt, an associate vice president for undergraduate enrollment, explained that high school students are applying to more schools and so DePaul must admit more students to make sure the class is full. Since 2010, DePaul has been able to maintain a consistent freshman class of around 2,400 students.
In 2014, DePaul received only 424 more applications from 2013 but admitted 1,701 more students in order to maintain about the same number of enrolled students. From 2010 to 2014, the level of part-time and full-time students has remained about the same with a 1 percent increase in full time and 1 percent decrease in part-time students.
DePaul is currently in the third year of a four-year test optional pilot program, which accounts for about 5 percent of freshman enrollment, and Boeckenstedt said it has had no impact on the quality of students applying.
"Well it generates more applications, we think," Boeckenstedt said. "There are probably some people out there that think that a test optional institution is less rigorous. But they're performing at almost the exact same performance levels as students with test scores."
The university will continue the final year of the pilot program and then look to make the test optional program a permanent part of the admissions policy. Most notably, freshman ACT scores and average GPAs have increased over recent years, Boeckenstedt said. In 2007, about 38 percent of freshmen scored a 25 or above on the ACT test, and for the 2014 freshman class it increased to about 48 percent, which includes students who applied test optional.
Applications for next fall quarter are looking up, or at least consistent when compared to last year. Freshman applications are up 1 percent, while transfer applications are up 8 percent as of Feb. 27, said Boeckenstedt.
"Of course we have enrollment goals, because enrollment gets translated into the budget," Boeckenstedt said. "I think it's just a matter of students believe that college needs to be more practical in the sense that they want a clear connection to a career path when they graduate."