DePaul Coaching Candidates: Bobby Hurley
This is the first in a series of articles looking at potential replacements for Oliver Purnell as head coach of DePaul men's basketball.
With the announcement that Ben Howland was off the market after his agreement to lead the Mississippi State program, DePaul was out a potential hire for new head coach. Howland, 57, was one of the older possible hires for DePaul and now it looks like the Blue Demons will be aiming young.
Sources told http://t.co/3Qt3JZtbw6 that DePaul is aiming for a younger coach than past hires. Bryce Drew, Bobby Hurley continue to pop up.

— Scott Phillips (@phillipshoops) March 23, 2015
Bobby Hurley, as mentioned above, certainly fits the criteria of a young coach. The 43-year-old just finished his second season at the helm of Buffalo and is fresh off an NCAA tournament appearance with the Bulls, the first one in school history and is an interesting consideration for DePaul.
Bobby Hurley Profile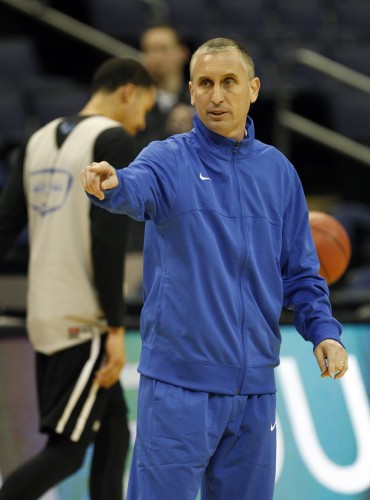 Age: 43
Current Job: Head Coach of Buffalo (second season)
Record: 42-20 (.677), 23-10 this season
Trophies: MAC East Divison 1st place (2014, 2015) MAC Tournament winners (2015)
NCAA Appearances: 1 (2015)
While his tenure at Buffalo has been short, it's been fairly impressive. He took a team that went 14-20 and 7-9 in the Mid-American Conference in the 2012-2013 season and brought them to a winning record in his debut season with the Bulls, going 19-10 overall and 13-5 in the conference. They earned a MAC East division title, but did not make the NCAA tournament after losing in the semifinals of the MAC tournament.
Then, in the 2014-2015 season, Buffalo took another step forward under Hurley as they went 23-10, 12-6 in the conference and won the MAC tournament, which granted them their first Division I NCAA tournament berth in school history. As a 12 seed, their comeback against No. 5 West Virginia fell short, but Hurley's performance as a head coach had drawn the eyes of programs elsewhere.
The biggest allure of Hurley for DePaul would be his ability to actually coach the players. The Blue Demons have talent on the squad with sophomore guard Billy Garrett Jr. increasing his numbers across the board from his Big East Rookie of the Year campaign in 2013-2014. Junior Myke Henry came on the scene after transferring to DePaul to average 12 points and 5.4 rebounds, and sophomore Tommy Hamilton improved this past season as well, averaging ten points and 5.3 rebounds, all increases from his freshman campaign.
Hurley has shown the ability to make adjustments with lineups. After losing his star forward Javon McCrea to graduation following the 2013-2014 season, the Bulls were able to slide forward Justin Moss into the same position and receive similar production. In fact, Buffalo lost three seniors who got regular playing time after Hurley's first season and he was able to improve the next season with an overturned lineup. He got production out of young players like sophomore Shannon Evans (15.4 points, 3.2 rebounds) and freshman Lamonte Bearden (8.3 points, 4.4 assists) to match with the experience of the older players.
In his two years so far at Buffalo, Hurley was able to lay the foundation to build a program while also competing in the present. DePaul would benefit from a coach who is able to make adjustments to his lineup while at the same time maintaining a high-level of play. The Blue Demons showed improvement at the beginning of the conference season, winning their first three games and winning six Big East games for the first time in Purnell's tenure but the rest of the conference figured them out eventually and DePaul lost 11 of its last 12.
DePaul needs a coach who can adjust and get the most out of its talent. Hurley has exemplified this at Buffalo and DePaul would be wise to offer him the job.
Quick Facts
Played collegiately as a point guard at Duke from 1989-1993, winning two NCAA Championships in 1991 and 1992. He was an All-American in 1993 and NCAA Final Four Most Outstanding Player in 1992.
Played for the NBA's Sacramento Kings from 1993-1997 and the Vancouver Grizzlies in 1998.
Worked as a scout for the Philadelphia 76ers in 2003.
Hired as an assistant coach at Wagner College under his younger brother Dan Hurley.
Moved with his brother to Rhode Island as an associate head coach.
Named head coach of Buffalo in 2013.