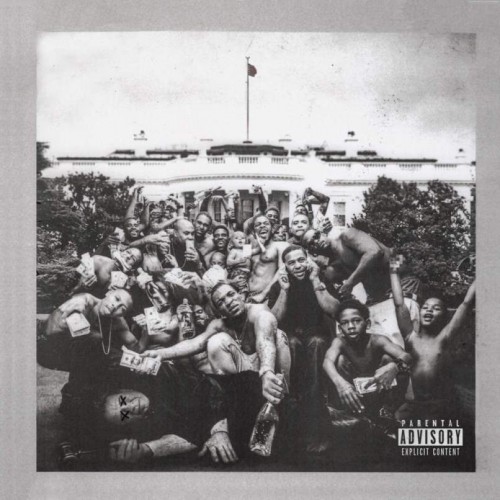 The last time we heard from Kendrick Lamar, he was spinning a tale of a Compton kid crushed by peer pressure and crime. In its storytelling, conceptual nature and catchiness, "Good Kid, m.A.A.d City" is a remarkable album, one showcasing Lamar's self-awareness as he dissects his past. But years after being publicly recognized for his acclaimed album, Lamar is a different figure: he's award-winning and arguably a household name, with his face streamed into living rooms not only in his hometown, but throughout the world. He's breached mainstream fame, a fact he is fully aware of on "To Pimp a Butterfly."
Like "Good Kid," the record is a concept album, albeit one a deeper one that does not follow a linear structure. Instead, it revolves around two poems, one of which is spliced into a series of vignettes; as Lamar recitation progresses, it leads into the next track. Closer "Mortal Man" packages it together, revealing that Lamar has been conversing with 2Pac all along (in a chat spliced from a real 1994 interview with the deceased rapper) and he recites the final poignant poem.
But this is a gross oversimplification; truthfully, presenting it as such almost feels like a disservice to Lamar's brilliant and experimental work. "To Pimp a Butterfly" does not merely tackle fame, discrimination, culture and hardship, but also Lamar's agency, status and uncertainty. Instead of preaching from the get-go, he walks through a process of soul-searching and seeking truth, and is honest in his dissuasion along the journey.
"Institutionalized" evolves over its four-minute span, touching on his misuse of power as Bilal muses in the voice of Lamar's grandmother, "S– don't change until you get up and wipe your ass." It's a turning point in the album, an understanding of his potential not fulfilled until he recognizes genuine self-love on "i" over 10 tracks later. In that span, he confronts his depression, demonically manifested as a woman named Lucy, and revisits Compton only to feel disconnected.
Musically, lyrically and in sheer length, "To Pimp a Butterfly" is occasionally a challenging listen. There's no "Backstreet Freestyle" or "Swimming Pools" to entice the casual fans, and the hooks are sparse. Even "i," previously released as a poppy single, is a grungier live take, interrupted by a scuffle in the crowd. Its production is more akin to Flying Lotus' "You're Dead" – and not just during the FlyLo-helmed opener – infused with jazz and sometimes odd, free-range sounds. Even Lamar's flow is rarely straightforward; he takes on a falsetto tone, furiously slithering through an emotive slam poem on the second track, "For Free?"
While the record might not hinge on instant gratification, these tangled storylines make it an immensely satisfying triumph. This is not just Kendrick Lamar aware of his success, but at the top of his game and hip hop in general. In a genre infatuated with authenticity, social messages, confidence and stories, he hits all of the tenants with style. A monumental record, "To Pimp a Butterfly" is destined to be experienced again and again to dig deeper into its wisdom.