Commentary: Dave Leitao said the right things, now it's time to prove it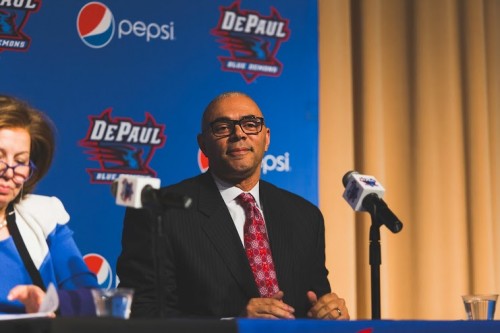 With a smile, an abundance of thankfulness and a proclamation of a mission to win, Dave Leitao was re-introduced to the DePaul community. For a hire that does not feel particularly inspired, Leitao's comments were optimistic and refreshing.
Although the hire came as a surprise to him, even, Leitao believes he is the right man for the job and can take this program back to the postseason.
"I cannot wait to roll up my sleeves and make you proud," he said. "Whether you're on board, on the fence or need to be brought on board I dare you to give it a try because we are absolutely going to make you proud."
It's a win-now mentality that needed to be heard for a fan base that has been starved for a relevant basketball program. Leitao and Athletic Director Jean Lenti-Ponsetto made it very clear that this was not a rebuild and that success not only could, but should come for the Blue Demons in the very near future.
After five years of an Oliver Purnell era that never got off the ground, this was refreshing to hear. But now, he needs to back it up.
"To our players, this is a new day," he said. "What I heard about you and what you heard about me, we're all starting with a clean slate. I challenge them to go out and realize your dreams and let us dream together."
Leitao's hire was not met with much outside praise. It's been called "cozy" , a hire that reeks of settling when other, more exciting candidates were available. And when young and hot candidates like Bobby Hurley of Buffalo and Bryce Drew of Valparaiso were linked to the program, it's hard to not feel let down by the re-hiring of Leitao, who has not been mentioned to any other head coaching jobs in the six years he's been an assistant.
For a program that has been in need of reinvigoration, a hire that is perceived as stale and directionless does not inspire much confidence in the program. Leitao comes into this program with a heavy deal of skepticism.
The only cure for that is winning.
"Whether I've got 100,000 fans or 10 fans right now, it's all dependent on winning basketball games and to have the people with the ability to do it on and off the court," he said.
Leitao won immediately in his first stint at DePaul. He took a Pat Kennedy team that went 9-19 a year prior in 2001-02 and went 16-13 accompanied with a trip to the NIT just one season into his tenure. He did a similar thing at Virginia, going to the NCAA tournament in only his second season with the Cavaliers. At this point, none of this matters now except to say that he has done it before.
Now, however, he needs to come in and win immediately. He needs to prove that he isn't just a comfortable hire but that he is the right hire. He needs to prove that DePaul's setting a new direction without clinging to the past.
"I think Dave is different than what he was last time," Lenti Ponsetto said. "There are a lot of people who like the idea. I get the part that some people won't. He's going to have to prove that."
He has the talent on the team to improve. After all, the Blue Demons showed signs of progress this season by winning six conference games (double the conference win total of any other Oliver Purnell season) and defeating teams like Stanford. On the other hand, they also went on a six-game losing streak at two different times during the year. The consistency is missing, he needs to bring it back.
Leitao said that he left the DePaul job "unfinished" and wanted to come back and finish the job. Taking this team and doing what he did in his first tenure — taking a team with glimpses of talent and turning that into wins — he will earn the respect of the skeptics. He is already starting with a hole of skepticism he needs to dig out of, but he has the confidence in what he wants the program to be.
"People are going to see us play and then pick up the phone or text or tweet to their friends that you've got to come and see this," he said. "If not, you're going to miss out on something very special."
After a decade of mediocrity, DePaul fans are ready to dial.