Lenti Ponsetto defends 'No. 1 choice' Leitao for DePaul basketball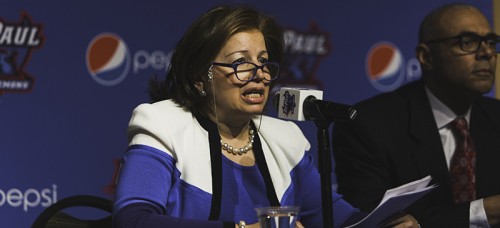 Dave Leitao was the first DePaul men's basketball coach that Athletic Director Jean Lenti Ponsetto replaced. A decade after Leitao left for Virginia, Lenti Ponsetto has had to defend bringing back the man who took DePaul to its last NCAA tournament.
"From our perspective, in some way shape or form, there was going to be a faction that wasn't going to happy no matter who we hired," she said. "It's happened every time in every coaching search that we've had."
Lenti Ponsetto brought up past players who played under Leitao who were ecstatic about Leitao being re-hired.
"As I mentioned before, it brought a tear to my eye because I received an email from Drake Diener and it just said "Great hire. I'm so glad that he's back," she said.  "And Sammy Meija, he sent me an email today that was four or five paragraphs long about what a mentor Dave was."
DePaul interviewed four candidates during the search. Where Leitao stood out amongst the other three, according to Lenti Ponsetto, was his experience coaching against good coaches and programs.
"We talked about competing in the Big East, which is a tall order," she said. "We wanted to hire a coach that had the background and history that could do that.  The coaches that Dave has competed against with success, I think that's where he surfaced."
In the 10 years that have passed since the last Leitao tenure, Lenti Ponsetto's hires have not done well at DePaul. Jerry Wainright, who coached the Blue Demons from 2005-2010 had only one winning season in 2006-07 and finished with a 59-80 record before his mid-season firing in January 2010. Oliver Purnell was even worse, never winning more than 12 games in a season and finishing 54-105.
With Leitao, however, the expectations are that the program will turn around and that they will start winning immediately.
"Our expectations are that we're going to have a team that plays with fierce competitiveness, plays defense and rebounds," she said. "A team that is consistent offensively and has an actual process that we follow."
In addition to winning, though, she also stated the importance of the "student" in student-athlete, and in doing so defended the previous coaches under her tenure.
"I want to say in regards to Oliver (Purnell) and Jerry (Wainright), they weren't failures," she said. "The kids who came here, they graduated college. Those kids got their degree."
The men's basketball Academic Progress Rate rose above sanction level Wainright first took over and has not dipped below a 925 score — meaning less than 50 percent graduation rate — since 2006-07.
Lenti Ponsetto already has Leitao on board with the direction she wants the program to take, both academically and athletically.
"I absolutely love this school and everything that it stands for," Leitao said. "There isn't anybody more special in college athletics than Jean, and I am honored to help raise the basketball program to the level that she deserves."
One of the criticisms of the Leitao hire was his recent coaching record. He had not been a head coach collegiately since 2010 when he resigned as head coach of Virginia. Lenti Ponsetto, however, believes that his time as an assistant coach between then and 2015 has helped him become a better coach.
"I think Dave is new. I think he's different than what he was the first time," she said. "There's something to be said for all the places he's been and the experiences he's gained."
Lenti Ponsetto understands that Leitao will have to prove the statements they made about winning to win over the skeptics, but she is still confident he can complete that task.
"We knew that (Leitao) can be successful here. And so within the University community, you can see a lot of people who really like the idea. And I get the idea that some people won't," she said. "He's going to have to prove that."
"But I've lived in Chicago long enough to know that if you win at anything, people are going to come out and watch you."