Young players create a racket in DePaul women's tennis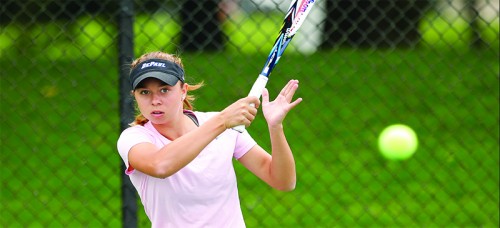 Well on their way to another winning record and with a Big East tournament win in their sights, DePaul women's tennis heads into the final stretch of matches with two young players providing crucial play at the top of the card.
Freshman Patricia Lancranjan and sophomore Yuliya Shupenia have been the primary No. 1 and No. 2 this season for the Blue Demons, each of them making ten appearances respectively at the top of the bill. When one is the No. 1, the other is typically the No. 2, with both making at least five appearances each in the two-spot.
For two first-year collegiate players, starting off the singles bill can be a little daunting.
"I think it's more pressure, even playing number two," Shupenia said. "You're the leader and you're trying to set the tone and trying to play really well."
While neither of them really have the record they particularly wanted, their placement at the top allows head coach Mark Ardizzone to use the older, more experienced players at the other positions.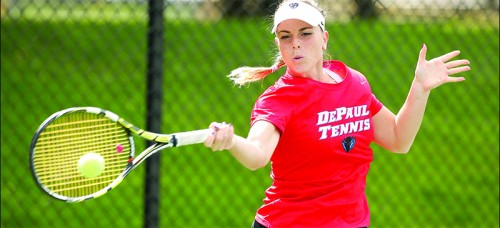 "Every team has two maybe three good players, but us and a lot of teams have six or seven really good players," he said. "If you look at our record at the four, five and six spot, it's just off the charts good and so it gives me a lot of options about who I want to play there."
While both of them have winning records overall, neither of them have had an impressive win-loss record at the top. Shupenia is 4-3 at the number one spot and Lancranjan is 4-6.
"Personally I think I should have done better, I want to help the team more but sometimes it didn't work out," Lancranjan said. "Hopefully in the next years it will be better."
Ardizzone said this is because when they are in the number one spot, they are going against the best of the best from other schools.
"I think it's been a tough adjustment period for them as I think they both have not done as well as they would have liked in terms of wins and losses," Ardizzone said. "But you know them being in those spots just makes us so much better in those spots and they're competitive in those spots, but I think it's driven them both to want to win more."
Both of them have been able to win at singles competition overall, but Shupenia has also been a fixture on the doubles slate, partnered with senior Rebeca Mitrea for the most part.
"I really like playing with her. I think sometimes we balance each other out," Shupenia said. "So whenever she's having a rough time I can step up, and the same goes for her, we kind of take a little bit of the pressure off one another."
The two have been the most frequent partnership on the squad, playing 12 different matches with each other. They have a stellar 12-2 record with each other, which has been a large part in helping the Blue Demons win the doubles point.
Working with the older players to help mutually improve their game, as with Mitrea and Shupenia, and to help the team at the same time is what Ardizzone hopes is the goal for every player time in and time out.
"What I look for is that every kid gets better," Ardizzone said. "I think if we just concentrate on that, then we're going to win and the outcomes are good and we can win the matches, but I want every kid to think they're getting better."