Aldermanic race in 43rd Ward remains unfinished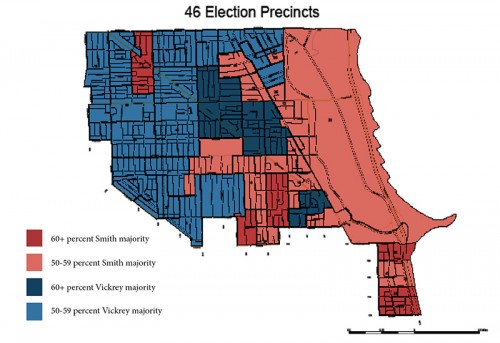 The 43rd Ward is still without a winner this week as Ald. Michele Smith leads challenger Caroline Vickrey by a mere 86 votes as absentee ballots are still being counted.
Both sides have held off on declaring victory or conceding until all the votes are counted. But even then, a recount is still a possibility in this bitterly contested race.
"Confident," Vickrey said when asked how she felt heading into the next few weeks.
Smith led by 98 votes on election night, but it switched to a six-vote Vickrey lead the next day after two precincts that experienced technical errors were counted. But after two days of counting absentee ballots, Smith's lead is back up to 86 votes.
Absentee ballots historically favor incumbents, and the numbers across the city reflect that. In addition to Smith, Aldermen John Pope (10th Ward), Toni Foulkes (16th Ward), Howard Brookins Jr. (21st Ward), and Ray Suarez (31st Ward), all in tight races, have made gains against their opponents in the past few days.
In a press release, the Smith campaign said, "We are confident of victory and anxious for all the votes to be counted."
Support across the ward was quite divided, with Vickrey winning the majority of Lincoln Park and doing especially well around the site of former Children's Memorial Hospital, and Smith drawing her strongest support from Old Town and the Gold Coast.
The race has been one of the hottest and most bitterly contested as issues surrounding the redevelopment of Children's Memorial Hospital and the Lincoln Elementary annex have made Smith a polarizing figure in the ward.
Doug Farley, a field organizer for Smith's campaign, hypothesized on the particularly competitive nature of the race.
"The 43rd Ward, in particular, is very hard to please. The last elections here have also been very close. I think the alderman here may be much more accountable than that of most other wards. People here are very aware and involved in the community, and there's 12 neighborhood associations that all have very active followings," he said. "With something like the development of the (former) Children's Memorial Hospital, we're looking at what should turn out to be a great new development plan. Obviously though, there are immediate neighbors in the surrounding blocks that aren't going to be happy, and some of them may have preferred to see townhomes or quieter development along the lines of that. It's a very galvanized public that is ready to decry anything that doesn't meet their exact standards."
Despite the still undecided aldermanic race, ward residents voted for Mayor Rahm Emanuel at a decisive 83 percent clip, the second highest of any ward in the city.
While Smith and Vickrey both supported the mayor, Smith had his backing and often reminded voters of that.
The results are not expecteed to be final for another couple of weeks.
Kevin Gross contributed to this report.