DePaul's World Catholicism Week stresses responsibility for planet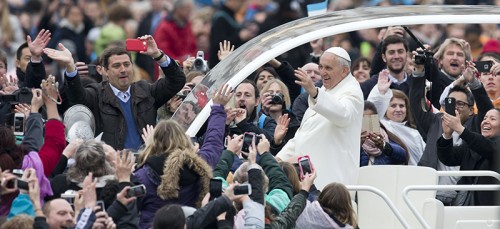 In anticipation of Pope Francis' encyclical,  the annual papal address to all Roman Catholic bishops, DePaul hosted scholars, theologians and activists from around the world last week to address environmental issues at the university's sixth annual World Catholicism Week.

The South American pope's environmental agenda is expected to put pressure on world leaders to prioritize environmental solutions, but it is only a part of the movement by all religions to take better care of the planet.
In a country where science and religion don't easily mix, speakers at the conference hosted by the Center for World Catholicism and Intercultural Theology, said the divine and nature are intertwined.
"I think the reason (science and religion) been studied separately is one is considered spiritual and one is considered scientific," Brayton Shanley, the co-founder of the Agape Community, a Catholic community residence dedicated to social activism and sustainable living, said.
After centuries of religious leaders denying scientific discoveries, Shanley said religious people are starting to "honor what science is saying."
DePaul environmental science professor and Protestant, James Montgomery, said religion can play a positive role in supporting environmental awareness.
"What the Catholic and other denominations are doing is espousing a view of the care of creation, that we live in a world of finite resources," Montgomery said. "I think the idea of the care for creation, as I envision it, is the need for people to recognize limits to growth, to re-evaluate what our basic needs are."
The pope's environmental-themed encyclical has stirred the Catholic community, but other religious leaders at DePaul said their faiths also practice environmental sustainability.
Matt Charnay, DePaul's Jewish Student Life Coordinator, said there are many Jewish holidays tied to the environment. Though some of these holidays' meanings can be deeply theological, many are applied by Jews today.
"As modern 2015 Jews, we have taken this idea of repairing the world. We really see it as our duty as humans on this earth to make sure that this earth is in the best shape it possibly could be," Charnay said. "We really, as a whole in Judaism — from very liberal secular Jews to very conservative orthodox Jews — see it as our responsibility to take care of the world that God has created."
"We really understand as religious people that it is one of the duties of ours to take care of the earth," Charnay said. "Both in terms of social justice and for serving God," Charnay said, "we need to create heaven on earth so the messiah can come back, and we need to make the world as beautiful and as pristine as possible so we can keep it alive for as long as we need it to be alive for."
Abdul Malik Ryan, DePaul's Muslim Student Life Coordinator, said to be Muslim is to be submitted to God.
"There's a Muslim understanding that all of creation — all the animals, all the planets, the stars, the rocks — are Muslim. They are all submitted to God, they perform its function the way that it's supposed to," Ryan said. "Being that we're all part of creation as human beings, we're supposed to be a part of the natural order and all its mission with God together. So anytime humans interact with the natural world, we're held accountable for how we interact with the natural world and that we do it in the correct way."
Scott Kelley, assistant vice president for Vincentian scholarship at DePaul, said "the environment is something that as human beings we're all embedded within." Kelley said that environmental concerns have always been present in the Catholic church, but Pope Francis has made it a focal point.
The Argentine pope was elected to lead the Catholic church in 2013 and has built a unique reputation after refusing to live in luxurious papal apartments and insists on driving low cost cars. According to Market Watch, Pope Francis' much anticipated address on the environment will be broadcast to billions around the world, and, according to Reuters, after an invitation by House Speaker John Boehner, Pope Francis will deliver his address to Congress in September.
"I think that Pope Francis has obviously a great deal of influence. He's certainly well respected, not just by people in the church, but by people around the world," Sr. Katie Norris, director of DePaul's Catholic Campus Ministry, said. "I think that he can influence people who then in turn can influence others."
When the pope speaks to Congress in the fall, Norris said "he's not exactly speaking to a friendly bunch of people because the GOP is still saying that (climate change) is not happening."
Norris said it was ironic that many Republicans who deny the existence of climate change are also Catholic.
"It appears that their faith is in one compartment and their politics are (in another). And when I say their politics, that's strongly influenced by economics, by people of power," Norris said. 
Bill Cavanaugh, director of the Center for World Catholicism and Intercultural Theology that hosted the conference said the research center was established to talk about the role of the church in what he calls the "global south," or countries in Latin America and Africa.
Other topics addressed at the five-day conference  included issues of sustainability and justice in developing countries.