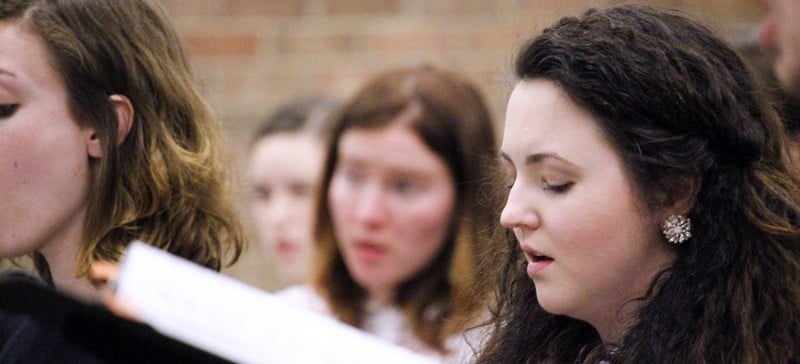 This is the second in a three-part series following three seniors in the School of Music. Part one was published Feb. 2.
For seniors, there's often one question that begins well intentioned but ends up nagging at their minds until the wee hours: What are you going to do after you graduate? The worst answer is the most common: I don't know.
Thinking about the future can be maddening in its vastness, a multiverse of ends and means pulling in infinite directions. For School of Music students this means graduate school or something else: professional auditions, festivals, competitions or puzzling together freelance gigs.
"Pursuing a master's degree is nearly always in the conversation," School of Music staff advisor Phil Verpil said. Part of his job is to check in with graduating seniors to ensure loose ends are tied before donning a cap and gown.
But even with graduate studies, the climate is different. It's not just about knowing études, but also marketing and interpersonal skills, Career Services Coordinator and DePaul alum Rachael Smith said. There are also creative solutions: some former graduates formed a conductor-less orchestra.
"I don't think any of them are discouraged because classical music is called 'dead.' For them, it's all-consuming," she said. "It's not dead in their minds — they're ready to go."
Until then, it ultimately comes down to one diploma and one decision, and never filling in the what-ifs.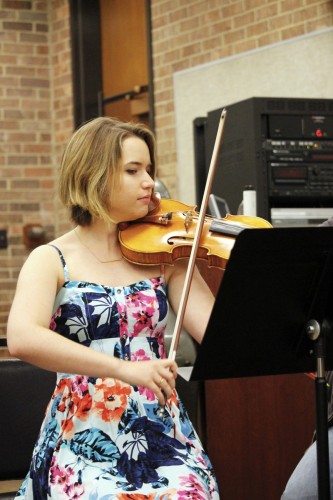 Katherine Baloff, violin
Today, Katherine Baloff bubbles with a subtle boil of giddiness. Perhaps it was interview nerves, the weeks of ensuing auditions inching nearer or a schedule dense enough to make the most poised senior sweat, but last February that wasn't entirely the case.
Now, her voice is punctuated with exclamation points as she describes the future at Lynn University in Boca Raton, Florida, where she will be attending graduate school. Though her world is tugging and whipping at gale force speed, she's beaming.
But for a solid week in March, Baloff sprang from one city to another, clinging to pages of itineraries detailing one audition after another. Many hotels aren't keen on guests zipping through études in their halls, so much of her practice time was put on hiatus.
"I got back and was like, 'how did I do that?'" she said. "For a solid week, it was just traveling, a plane ride every other day."
Despite applying to so many schools, Lynn was an easy decision. After auditions quelled, she and her friends beach-hopped in Florida on spring break and dreams of the sunshine state arose. Certainly she'll have to leave some of them behind (though she said "the good thing about living in Florida is that everyone will come to me") but there are other friends already at Lynn, great instructors and a full-ride waiting.
Classes begin in late August and, unlike moving to Chicago, this time she'll be sure to pack her shoes; she played her freshman seating auditions in black and white Converse, which the director gently described as "clean."
But there's still a whirlwind week ahead in May, filled with final concerts and a senior recital, but it's more of a final hurrah this time.
"Everything's changing all at once," she said.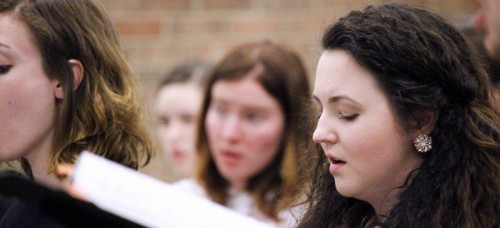 Christine Roberts, vocal performance
April 15 was a fateful date for Christine Roberts, but not because it's tax day. It was a day of reckoning, looming in the near future for another reason: it was the day she needed to decide whether or not she would return to DePaul for graduate school. Despite her bubbly spirit, she desperately flip-flopped with indecision.
"This morning, (the decision) was to take a year off, but now it's that I'm coming back," she said. "I've met professors, I've met students. But I have to make this decision. Everyone I've talked to said, 'it's your decision.'"
Neither choice had damning consequences — at worst, she would forfeit DePaul's scholarship offer and potentially her pre-scheduled time slot with her instructor — but the stress was making her nauseous. and sleepless.
Her final decision? Take time off. In opera, voices take time to mature — many mezzo sopranos like Roberts don't land their biggest roles until their 30s — and waiting will give her time to gain professional experience and consider her next move.
Her instructor, Jane Bunell, recently announced her move to Michigan State, meaning Roberts would not have been able to study with her anyway. Despite the initial anxiety, she's looking forward to the new year.
"I remember just starting college," she said. "I can't believe time has gone so fast."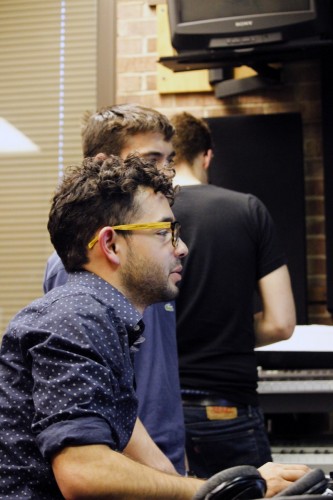 Zach Yanez, jazz percussion
Zach Yanez lugs maracas, wind chimes and a rain stick into a first floor studio space where he and two fellow jazz students mix a track for their band, Just. The song is missing something, they decide, and he tries sprinkling in twinkling chimes (it's hokey; "This isn't a Disney movie," he said.) and bars of snapping maraca beats. In the end, they decide it was fine without it.
They tease him about moving back to Austin, something the Texas native has been seriously considering since spring break. It's not just a daydream about big and bright stars or eating tacos for every meal — there's family back home.
"Everything is pulling me back: music, my career, my family, where I'd be living," he said. "How do I say no to all of that?"
Yanez's father is a professional drummer with theater gig and teaching connections, and even Craigslist postings point to good prospects. He suspects his mom is saving furniture for a future apartment. As a trained musician in a smaller town, piecing together a living would likely be easier.
"It's not like I want to make my life easy, but I just don't want to make it hard for myself," he said. "I'm just afraid if I stay here, I'd get buried in a ton of other guys."
There's also friends, who he's played, lived and learned with for the past four years. Austin, too, is a rapidly growing city that's enticed Silicon Valley vets and migrant artists, and he fears it isn't the same city he knew when he left it at 18.
"The more that I think about being home, homesickness starts to set in," he said.