DePaul women's basketball adds Illinois forward Jacqui Grant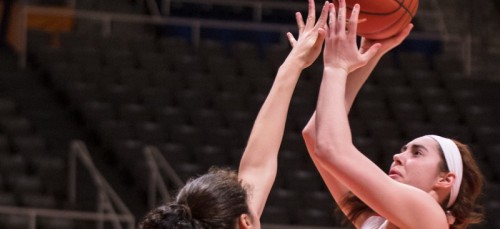 After originally losing out on her when initially recruiting, Jacqui Grant will end up attending DePaul as the athletic department announced that she will transfer after two seasons at Illinois.
"We are thrilled a player as talented as Jacqui has chosen DePaul," head coach Doug Bruno said in a press release.
"We began recruiting Jacqui when she was a freshman at Maine South and were the first Division I program to offer her a scholarship."
The sophomore forward, who is 6-foot-3 averaged 30.4 minutes for the Fighting Illini in the 2014-15 season. She put up an average of 9.6 points per game this season and seven rebounds per game. Over her two seasons with Illinois, she averaged 11.1 points and 6.43 rebounds. She was also a force on the defensive end with 60 blocks and 75 steals in her two years in Champaign.
"Jacqui fills a big need for our DePaul future as her skill set packages interior post play, rebounding and shot blocking size together with excellent shooting and perimeter skill," Bruno said.
Grant will sit out the 2015-16 season due to NCAA eligibility rules and will be available to play for the Blue Demons for the 2016-17 and 2017-18 seasons. She will add some height and presence inside the paint for the Blue Demons, who were one of the smaller teams in the Big East this past season.
"Playing for a great high school program at Maine South and a great travel program with Midwest Elite in addition to two years of Big Ten collegiate experience will have Jacqui ultra-prepared for her future in the Big East conference," Bruno said.
Coming out of high school, Grant was the No. 28 power forward and No. 108 player overall as ranked by Blue Star. She was a first-team All-State selection in Illinois by the Illinois Basketball Coaches Association and Champaign News-Gazette, while the Chicago Tribune and Chicago Sun-Times named her as a second-team All-State selection.
The Blue Demons will begin the 2015-16 season in early November with the schedule yet to be released. They will look to defend their second consecutive Big East regular season and tournament championships.