Choose Chicago starts 'Epic' campaign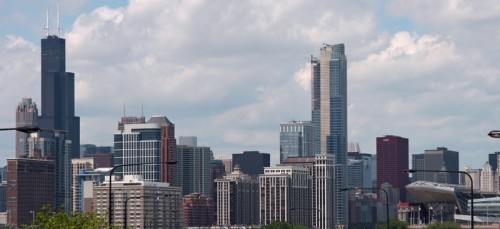 Is "epic" the right word to describe Chicago? Well, according to the newest released TV and online video ad launched by the city's tourism agency Choose Chicago, it is.
The campaign premiered on April 13 and consists of an 80-second ad showing some of the most visited spots in the city and invites viewers to "Be part of something big today, be part of something larger than life, be part of something epic, Chicago."
A centerpiece of a $2.2 million media push, according to Crain's Chicago Business, is diving its budget on TV and online video, digital advertising, social media and paid search, not only in the Midwest area, but also in places like San Francisco.
But the question remains whether or not they chose the right term to describe the city as it is.
"Chicago is too spectacular and complex to be captured in its entirely within an ad, but it captured the toughness and soul that I love about the city," said 23-year-old DePaul University student Adam Chalifoux. "Epic? Not the right word exactly, but not inaccurate. It's a cliché word to describe something overwhelmingly powerful or grand. Majestic, that would be my word."
The spotlight created by FCB Chicago and STARCOM USA portrays the skyline, the architecture, the people, Millennium Park, the Chicago River and other places in the city. But according to graphic design major Katina Calamari, the spot still fell short of some of Chicago's offerings.
"I think Chicago's restaurants are really big and I did not see a lot of that in the video," she said. "They did not really show some big food places, or the House of Blues, and music is pretty big right now."
"But I do think Chicago is epic, I personally go to a lot of concerts, and some of the things you do in Chicago are epic. You leave Lollapalooza, stand-up comedy, or the Willis Tower and see the entire city and say 'that was epic'," Calamari said.
And while for some of the viewers, sports, tourist spots, restaurants, and music are important, for others, nature is a big part of what the city should be appreciated for, as was the case for 19-year-old DePaul student Ally Hermes.
"I feel that the spot attracts a lot of young people, especially from our generation, a lot of people say we are all about technology, but there are still good amounts of people that do spend time exploring nature and art. And in Chicago there are so many things outside," she said.
"To describe Chicago, I want to say epic, but that implies the importance of the size of the city. I feel like the size of the city is not as important as how diverse it is," Hermes said. "Epic is something you use to describe when you just got off a fun roller coaster, or something like that. You can use epic, based on experience-wise."
For both tourists and Chicago residents, the ad is making an impact. From his own experience, Cesar Camacho, a PR and Advertising major who has not yet visited some of the spots shown in the ad, said "I feel like the ad is targeting families, because those places are the ones you go with your family."
"Epic for me is more like every event, but I feel like Chicago is so big and has so much history and culture, that maybe makes it epic," he said.
Concert venues, nightlife, and restaurants, seem to be the common denominator of the things that the ad did not touch a lot. "I feel that a lot of tourist spots is what they should do, show you what you can do from the moment you wake up to the moment you go to bed, when you are visiting a city," Hermes said.
For DePaul University PRAD instructor Dan Azzaro, the commercial sells more of an attitude, than a 'come and visit.'
"There was not a lot of shots of the Magnificent Mile, which is where a lot of tourism comes from. But again, it came to talk of an attitude of the city, it made me feel more like come live here, come do business here, than come here for the weekend and spend your tourist dollars," Azzaro said.
"Nice spot, great promotion of Chicago, but the other thing to think about is what's next?" asked Azzaro. "Another shoe has to drop," he said.
"I want to see more of what, besides the city itself, makes it epic. Is it going to be targeting different things? Epic night life, epic eating, an epic family weekend," Azzaro said. "If they are targeting that way, then it makes a lot of sense. But the first spot without any follow-up, I would only understand 'come live here."