Cardinal George remembered by Chicago, DePaul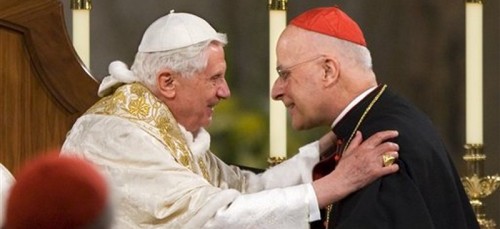 Francis Cardinal George, the former Roman Catholic archbishop of Chicago, died Friday after a nearly decade-long battle with cancer. He was 78.
George was appointed archbishop in 1997 by Pope John Paul II, serving until last December. He previously served as the archbishop of Portland, Oregon and the bishop of Yakima, Washingon and was made a cardinal in 1998.
The official announcement came from George's successor, Blasé Cupich, who called him "a man of peace, tenacity and courage."
"Cardinal George's life's journey began and ended in Chicago," Cupich said. "He was a man of great courage who overcame many obstacles to become a priest."
The cardinal had a deep connection with the city having been the first native Chicagoan to serve in the role. He grew up in Portage Park on the Northwest Side attending St. Pascal Grade School, according to the archdiocese's website.
The role of archbishop is significant in Chicago. The Archdiocese, which comprises Cook and Lake Counties, counts 2.2 million as congregates, or about 37 percent of the population, much higher than 24 percent of the country as a whole that identify as Catholic.
Many local leaders were quick to express their condolences.
"Cardinal Francis George led a remarkable life of faith and service," Mayor Rahm Emanuel said in a press release. "As Chicago's first native-born Archbishop, his journey took him full-circle from growing up in Portage Park to serving in far-flung missions around the globe, and eventually back home to shepherd the City of Chicago towards a better future."
Cupich said George "visited every corner of the Archdiocese," even when he was ill. Shortly after his death was known, DePaul President Rev. Dennis Holtschneider, C.M. released a statement echoing that.
"The DePaul University community is saddened by the death of Cardinal George. Whether it was because he was a former university professor or that he had taken courses in DePaul's music school in the 1960s, the cardinal always seemed relaxed and at home with our students," Holtschneider said. "He rarely refused an invitation to say mass for them, lecture in classes or speak at major conferences. His presence to our students meant a great deal to them over the years, and we will always be grateful to him for it. May the Lord bless him abundantly."
According to Sr. Katie Norris, director of DePaul Catholic Campus Ministry, George popped up every so often on campus for events and to meet with students.
"Every year when we would have the Jerusalem lecture, he would come to that," she said. "And he came either last year or two years ago and he just did an evening with the students where he brought in pizza and stuff and they just kind of hung out."
During his tenure, George served as a leader in the church regarding the sex abuse scandals plaguing it, calling for a zero-tolerance policy towards clergy accused of such crimes. He also led the fight against healthcare reform during President Obama's first term, arguing it would expand access to abortion.
From 2007 to 2010, George served as the president of the United States Conference of Catholic Bishops. He is survived by an older sister.