Nation and World briefs: April 27 issue
International headlines you need to know for this week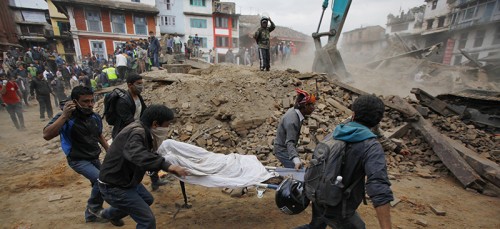 Earthquake devastates Himalayan region
KATHMANDU, NEPAL — Tens of thousands of Nepalese who spent the night under a chilly sky were jolted awake by strong aftershocks Sunday, and rescuers aided by international teams cleared rubble in search of survivors after a powerful earthquake killed at least 1,865 people across the Himalayan region.
Nepal bore the brunt of the quake's impact with at least 1,805 dead and more than 5,000 injured. The toll is expected to climb as more reports come in from far-flung areas, said Home Ministry official Laxmi Dhakal. Among the dead are 17 who were struck by a quake-triggered avalanche on Mount Everest that buried part of the base camp packed with foreign climbers at the end of the climbing season.
Saturday's magnitude 7.8 earthquake, which originated outside the capital Kathmandu, was the worst to hit the poor South Asian nation in over 80 years. It destroyed the old, historic part of Kathmandu, and was strong enough to be felt all across the northern part of neighboring India, Bangladesh, China's region of Tibet and Pakistan, where a total of 60 people died.
When the earth first shook, residents fled homes and buildings in panic. Walls tumbled, trees swayed, power lines came crashing down and large cracks opened up on streets and walls.
Most areas were without power and water Sunday, but with Kathamandu airport reopened, first aid flights began delivering aid supplies. Workers were sending out tents and relief goods in trucks and helicopters, said disaster management official Rameshwar Dangal.
He said that government and private schools have been turned into shelters.
More than two dozen aftershocks jolted the area after the first quake and continued into Sunday. Forecasts called for rain and thunder showers Sunday and the temperatures were in the mid-50s (14 Celsius), cold enough to make camping outside uncomfortable.
The quake will likely put a huge strain on the resources of this poor country best known for Everest, the highest mountain in the world. The economy of Nepal, a nation of 27.8 million people, relies heavily on tourism, principally trekking and Himalayan mountain climbing.
The world reacted with alacrity to the disaster, offering aid in the form of money, relief material, equipment, expertise and rescue teams.
Hospitals in the Kathmandu Valley were overcrowded, running out of room for storing dead bodies and running out of emergency supplies, the United Nations said in a statement.
The U.S. Geological Survey put the magnitude of the quake at 7.8. It said the quake hit at 11:56 a.m. local time (0611 GMT) at Lamjung, about 80 kilometers (50 miles) northwest of Kathmandu. Its depth was only 11 kilometers (7 miles), the largest shallow quake since the 8.2 temblor off the coast of Chile on April 1, 2014.
Tensions rise after man's death from police custody
BALTIMORE, MARYLAND — The death of Freddie Gray, a Baltimore man critically injured while in police custody, has sparked demonstrations across the city that touch on the fears many from his neighborhood say they feel about their everyday interactions with police.
Gray was arrested April 12 after police "made eye contact" with him and another man in an area known for drug activity, police said, and both men started running. Gray was handcuffed and put in a transport van.
Exactly what happened in the van and how he was injured are still unknown. He died a week later in a hospital of what police described as "a significant spinal injury."
In an interview with Baltimore station WJZ-TV on Wednesday, Police Commissioner Anthony Batts said a second man who was in the police van at the same time as Gray has said the driver of the van didn't drive erratically.
"He didn't see any harm done to Freddie at all," Batts said. "What he has said is that he heard Freddie thrashing about."
Independent groups planned to announce their own investigation into Gray's death at a news conference Thursday. Representatives of the Baltimore chapter of the Southern Christian Leadership Conference and Peoples Power Assemblies said they will get help from a civil rights investigator and will interview neighbors. Local authorities and the Justice Department have also announced probes.
The six officers involved in the arrest have been suspended with pay. Five officers voluntarily gave statements the same day as Gray's arrest, while one officer invoked his right to remain silent.
For days, demonstrators have poured into the streets, carrying signs, chanting "hands up, don't shoot" and calling for transparency and accountability for the police department.
A statement released Wednesday by the Baltimore police union comparing protesters of Gray's death to a "lynch mob" drew criticism on Twitter by users who called it racially insensitive and inappropriate, given that the demonstrations have been peaceful.
Volcano erupts in Southern Chile
ENSENADA, CHILE — Twin blasts from the Calbuco volcano in southern Chile sent vast clouds of ash into the sky, covering this small town with thick soot and raising concerns Thursday that the dust could contaminate water, cause respiratory illnesses and ground more flights.
Ensenada, in the foothills of the volcano, looked like a ghost town but for an occasional horse or dog roaming its only street. Most of the 1,500 residents had evacuated after the initial eruption Wednesday, with only about 30 people refusing to leave out of worry for their homes and animals.
Daniel Patricio Gonzalez left with his wife, 7-year-old son and 4-year-old twins, but he returned to town Thursday night to assess the damage. The roof at the restaurant he manages had caved in from the weight of the mounting ash.
"This hurts a bit, but there's nothing to do against nature. The important thing is that my family is fine," Gonzalez said.
The volcano erupted Wednesday afternoon for the first time in more than four decades, spewing out a plume of ash more than 6 miles (10 kilometers) high. Emergency officials were taken by surprise and had only a few minutes to issue an alert.
Calbuco had another spectacular outburst early Thursday with lightning crackling through a dark sky turned reddish orange by the explosion.
As the ash cloud spread Wednesday, "people went into a state of panic," said Miguel Silva Diaz, an engineer who lives in Puerto Montt, a city about 14 miles (22 kilometers) from the volcano. "Then, at around 1 a.m., I heard a loud noise, as if somebody had detonated an atomic bomb."
Winds blew ash in a widening arc across to Argentina. No injuries were reported and the only person reported missing since the eruption was located Thursday.
Authorities evacuated 4,000 people as gas and ash continued to spew, and they closed access to the area around the volcano, which lies near the cities of Puerto Varas and Puerto Montt, some 620 miles (1,000 kilometers) south of Santiago.