Durrell McDonald of DePaul men's basketball to transfer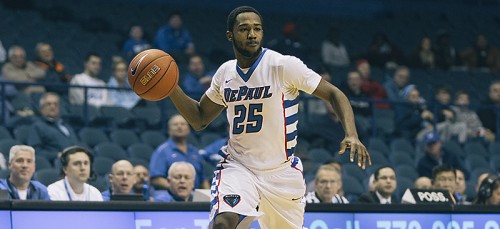 DePaul men's basketball will lose two players for the 2015-16 season, the team announced Friday.
Durrell McDonald, who would have played his senior season for the Blue Demons, has been granted his request to transfer away from DePaul and Ray Doby has been given a release from his national letter of intent.
McDonald is the only active player to leave the program after the hiring of Dave Leitao as head coach of men's baskebtall. He averaged 23.9 minutes a game in the 2014-15 season and started 21 games for the Blue Demons. He had an average of 4.3 points per game for the season, which declined in conference play. He averaged 22.1 minutes in the Big East with only 3.7 points. His 2014-15 season shooting stats were down statistically accross the board from his sophomore season.
There has been no news as to where McDonald will transfer after three seasons with the Blue Demons.
Ray Doby originally signed his national letter of intent to come to DePaul in November 2014 after re-classifying earlier in the year. He was originally supposed to be a part of DePaul's freshman class in 2014-15 but attended St. John's Northwestern Military Academy instead. He reaffirmed his commitment to DePaul in November but has instead decided to forgo playing for DePaul. The 6-foot-7 forward would have been one of four freshman joining the team in 2014-15.
The full roster was also announced Friday with no incoming transfers for DePaul. They will have six seniors and four juniors leading the team, with three incoming freshman in Develle Phillips, Elijah Cain and Oumar Berry.  They will have eight players from Illinois on the 2014-15 roster.