Review: Fat White Family at Lincoln Hall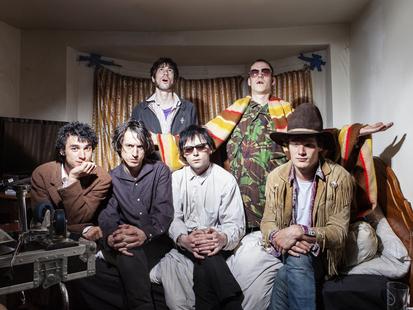 Fat White Family seems like they were born in a dingy, dark basement with cockroaches as companions and voodoo dolls as play toys. In reality, the band sailed across the pond for their upcoming tour, leaving their homes (or lack thereof; some members squatted around instead) of South London.
The show, which wasn't even close to being sold out, opened with Sun Club, a five-person pop group out of Baltimore. As soon as the xylophone began ringing throughout the air, the audience was transported a colorful, effervescent world. The front row (composed of only a few people) favored the light, synth sounds and vibrant black light show. Others, however, lingered in the back, observing the sunny guitar chords and dreamy, high pitched vocals.
This is probably Sun Club's greatest fault. Although they do a decent job of putting on a good performance musically, the band needs to try to connect their good vibes, feel good indie pop with the crowd. As the show went on the band did make a few jokes – including one about getting Lyme disease in Indiana – however, there were a few too many awkward pauses, especially when one of the guitarist's cords broke.
By the time Fat White Family was supposed to appear, more people ushered into Lincoln Hall. The audience was an odd mix of young college students and older men in formal, button up shirts and ties. Nonetheless, there was a riveting energy as Lias Saudi, Joe Pancucci, Jack Everett, Saul Adamczewski and Adam J Harmer sauntered on stage.
Fat White Family is dark and sinister, singing about bombing Disneyland and the murder of Lee Oswald (although they didn't sing "Who Killed Lee Oswald," to my disappointment). Although the group is known for getting naked onstage and launching pig heads into the audience, such crazy antics weren't thrown into the mix this time. Despite this, Fat White Family put on a carnal show. There's something primal and animal-like about each of the members, especially Saudi, who prowls around the stage like a panther stalking his prey. There's something oddly sensual about the crazy, peculiar look in Saudi's eyes as he gyrates his body around on the stage, at one point screaming into the faces of those who braved the mosh pit to stand dead center.
Every person in the audience, including those who didn't seem completely familiar with the band, was either captured by the performance, or a little bit scared by it. Fat White Family's ability to combine scuzzy rock and roll, shimmery psychedelic folk, and post-punk is an incredible sight to see. The band's appearance matches what they sing about: pedophiles, odd sexual encounters, protests against wicked capitalism. All seem like they haven't showered in weeks, rolled around in the foulest of alley ways,  drank too many pints at the cheap pub down the street and then showed up to play. It's a show I would probably pay to see over and over again.