Real potential of DePaul SGA: Greater autonomy needed from administration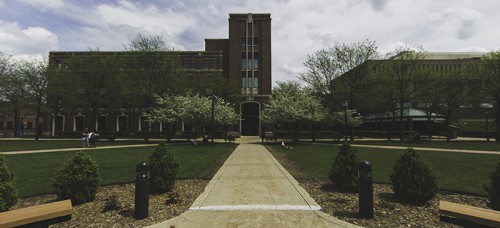 We passed provisions to allow funding for free HIV and STI testing, textbook financial aid and emergency funds in case of financial emergencies that could hinder students' enrollment with the money that was allotted to us as Student Government Association (SGA). No, this isn't DePaul's SGA, but it was the SGA of a community college I attended before I transferred, and it is a testament to the power that student leaders can potentially have under the limitations of their administrations.
To its credit, DePaul's SGA does not have that financial power. What DePaul's SGA does have is the ability to voice the concerns of the students. This is done only if its executive choose to carry out students' missions by applying pressure as necessary on the administration to better serve the students. The SGA as a whole plays a variety of roles, from serving as a voice for sustainability on the campus to serving as a vote on the Illinois Board of Higher Education's Student Advisory Committee (IBHE-SAC) to represent DePaul among an assembly of other universities across the state on a variety of issues.
The biggest part of this to underline is that the positions held within SGA are as significant as the seat holders make them.
The SGA at the University of Illinois at Chicago serves as another example of an effective student government. This SGA was a leading figure in making class evaluations public to students in a manner that both students and facultyy  accepted.
IBHE-SAC, which can be seen as statewide SGA, lobbied not only for affordability, financial aid for undocumented students and MAP grants, but lobbied for HB 821, the Preventing Sexual Violence in Higher Education Act, which successfully passed the house, and gave numerous student participants a chance to talk to senators and representatives about these issues.
Loyola's SGA had passed divestment and, despite whatever side you may be on, the enthusiasm of dozens cheering in response to the SGA as seen through the videos on twitter, #LoyolaDivest, was exceptional and the level of engagement was admirable.
However, there can be negative aspects about university SGAs. They can be ineffective, serving as a place of privilege rather than a place of advocacy. These examples can directly be seen through instances such as when a resolution is shot down in front of dozens of supporters, and the issues brought in the resolutions are then co-opted to make that same student government association look good.
It can be seen when what few funds do exist only go towards the benefit of SGA. It can be seen when student leaders within SGA are punished when they vocally disagree with SGA, to go so far as being taken into backrooms and told they need to be careful to disagree. It can be seen when the SGA's constitution allows impeachment when a senator critiques it.
There is potential within SGA, and if it meant nothing, SGA would not be so difficult to change. SGA is currently subject to such administrative control as to encourage its student leaders to do nothing, if they cannot compromise without largely seceding student issues.
How can such a potential be achieved with this in consideration? Part of the answer, perhaps the most significant, lies in the basis of democratic values. It is not enough to merely vote for students who want to help students, for this is the argument of every SGA candidate and member, it is necessary that the students apply pressure on those who would be their student leaders to take genuine, hard stances on behalf of the students.
Being a leader, when done right, should never be an easy job and it should be recognized as a position of privilege granted by those who expect leaders to make use of it to better the student body.
The students must push the demand for student leaders to be what they claim to, through voting, through petitioning and through campaigning. The potential of SGA is best impacted by the direct action of the student body to push student leaders forward and replace them as necessary.