Community conversations needed for police problems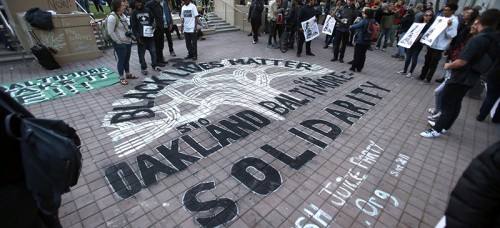 On arguably the nicest day of the quarter, DePaul's Black Student Union (BSU) lounged in a circle on the Quad hosting a "pop-up" conversation on topics ranging from police brutality to treatment of the oppressed that was occasionally swept away by strong gusts of wind. BSU's mission for that day  mirrored that of other groups around the country after the deaths of so many unarmed black men: help unite the community, oppressed and otherwise, for change.
The conversation, called "letting our presence be known" by BSU members, came from a brainstorming session the day before at their weekly meeting. The pop-up came in response not only to the recent death of Freddie Gray in Baltimore, but also for other deaths that have happened in recent months.
"We just wanted to come together as a black community to talk about the issues that are effecting us the most," Bri Cokely, sophomore member of BSU said, referencing Gray's death and the media's coverage of it. "We looked at the riots and asked ourselves 'what do we do next?' since the media puts different twists and turns on our story. How do we address what's going on?"
Communities at DePaul and around the country are mobilizing to create the change they wish to see in the world. It starts, Cokely said, with creating a safe space for conversation. In addition to the safe space, BSU also drafted a statement to DePaul's administration about the lack of response to the numerous deaths, ranging from Mike Brown's and the situation in Ferguson to Gray and the situation in Baltimore.
"Collectively, the Black Student Union at DePaul feels as though the university has failed to implement its mission by not expressing an interest on domestic issues involving the black community as it pertains to events such as Mike Brown in Ferguson, Freddie Grey in Baltimore and police brutally in general," the statement said in part.
The statement, along with the dialogue on the quad, came in part because of "a lack of communication from the university," and BSU deciding to "speak out about these issues in hopes of fostering awareness throughout the campus." In response to Gray's death, national organizations such as We Charge Genocide have also released statements on police brutality and in support of "Black Lives Matter", which can be seen as first steps in gathering the community for non-violent means.
"We're here paying tuition and we expect more. DePaul's lack of response to black deaths inspired us to have our own discussion. We decided as a union let's go out and bring it to DePaul," Akudo Mez, an officer of BSU, said. "Though there are mostly minorities here this is an open discussion. If you don't know something we'll educate you; if it makes you uncomfortable come talk about it. We're going to keep having conversations because that's how we figure out what must be done."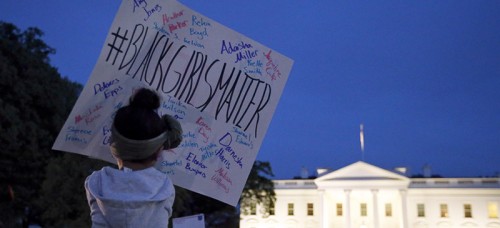 The use of community activism and organizing was a major strategy used in the Civil Rights Movement and has appeared in various forms, including these conversations, since that era. BSU recognizes that blacks are not alone and that the problem is also important to LGBTQ, Latino/a and the Palestinian communities. The marginalization they face acts as a uniting factor and also a factor in the organizing, as well as in the conversation.
"We're all still struggling after so many years. The Latino/a experience isn't the same but solidarity is important," Sandro Murillo said, who heard about the event in the Student Center a few minutes before its start. "The fact that this conversation is happening is a beautiful thing."
Outside of pop-up discussions, the nonviolent approach also includes peaceful marches and protests. Elijah Obasanya, co-founder of the Men of Vision and Empowerment organization (MOVE), advocates for exploited men who aren't being encouraged to reach their full potential because of the situations and circumstances they may be surrounded by, and mentors students likewise.
MOVE, which began last year, partnered with other activist groups to increase awareness of police brutality. Activism and advocacy, mainly by student groups and others around the country, provides the perspective of those who are going to inherit the problems of their parents' generation. It also provides a look into how they intend to fix them. Some, like Obasanya, choose peaceful protests, but, given what the media shows, he can understand why many choose the alternative.
"I understand the appeal of rioting and the frustration with the system. The past two criminal justice cases stem from rioting," Obasanya said.  "But nonviolence fits with my morality even though the perception of nonviolently pursuing justice comes with naiveté. I don't want to take away from others' methods. We have a right to protest the status quo in ways that we see fit, but we have to carry ourselves in a respectable manner to beat the idea the system wants us to fit into."
The circle of conversation, as well as the work of student organizations around the city, represents students leading the response to police brutality. There is a peaceful protest planned by MOVE for May 12, but the group's community activism additionally expands elsewhere. There are plans to have more discussions in the future that reach out to other on-campus organizations, but the goals of that day's conversation was largely to get the wheels turning, and create a plan for addressing police brutality and unwarranted deaths. This wasn't to complain, according to Cokely, but to begin to "foster change overall."