DePaul basketball's marketing strategy: Let Leitao be Leitao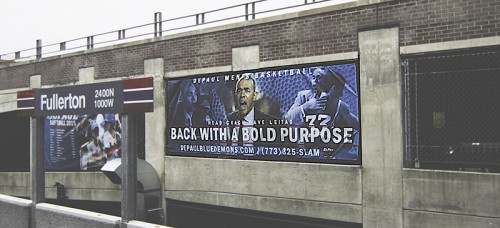 Passengers on the Brown and Red lines passing the Fullerton stop on the CTA can look out their windows and see a large advertisment adorning a parking garage featuring new DePaul men's basketball coach Dave Leitao. The dramatic poster features a simple slogan that resonates the message from the original press conference after Leitao was hired.
"Back with a Bold Purpose."
The re-introduction of Leitao to DePaul men's basketball from a marketing perspective has been based on what he said at the press conference. Quotes such as "I cannot wait to roll up my sleeves and make you proud. Whether you're on board, on the fence or need to be brought on board I dare you to give it a try because we are absolutely going to make you proud," have been the backbone of the message the athletic department is sending.
"What we're trying to do right now is capture the momentum that's going with coach and coming out of that press conference," DePaul athletics director of communications Greg Greenwell said. "He had a message that he delivered as well as he could and it obviously resonated."
After the March 30 press conference, the day after Leitao was announced as the new head coach, different departments from DePaul athletics, including communications, marketing and development, got together to create an immediate message. The idea was to take the bold purpose statement and turn that into a campaign.
"Groups started getting together thinking 'How are we going to capitalize right now?" Greenwell said. "The marketing department stepped up and said 'let's buy some full-page ads' and they were very well received."
The full-page ads appeared in the Chicago Tribune with the message of "Back with a Bold Purpose," simply taking the message from Leitao himself.
From there, the idea has been to give Leitao the opportunity to go directly to the public and win them over himself.
"Our focus right now is getting him out to meet as many people as he can," Greenwell said. "I think once a lot of people talk to him what I have found, working with coach Leitao and the media so far is that it doesn't take people long to remember the success DePaul had when he was here."
These events include interviews on sports radio shows and a meet-and-greet, which will take place May 14. This, according to Greenwell, will give Leitao the chance to market himself by personally winning people over who may not have been initially excited about the hire.
"Once people get to talk to him in a one-on-one setting I think they'll realize we're on a good track," he said.
What comes next, however, is still in the genesis stage. There will be different factors that determine what the message will be going into the summer, fall and into the 2015-2016 season. This, as well as potential news regarding the new arena that DePaul will play in, will all play a factor in how they approach a message.
What will happen, however, is that the message will start in the weekly meetings, where different departments will come together, possibly taking a look at recent momentum from a bold statement or perhaps a different strategy to reinvigorate a fan base that has been underwhelmed by the hire.
But if the current message can be any indication, the campaign will be bold.