DePaul SGA candidates design campaigns for voters
Hang on for a minute...we're trying to find some more stories you might like.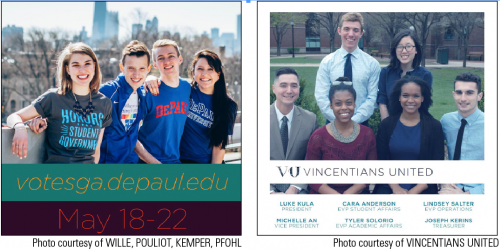 Political candidates are often criticized for their slick presence and skilled avoidance as they slither around tough questions. But besides the words they say and the promises they keep — or don't — there's the symbolism plastered across posters, websites, social media and advertisements.
For President Obama, this was the sun rising in the distance signaling the hope and change to come. For former president Ronald Reagan, it meant standing in front of an American flag to showcase his patriotic platform. For DePaul student and Student Government Association vice presidential candidate Ric Popp, it's just a warm shade of blue.
"Being Blue Demons is very important to us, and campus affinity is one of our major initiatives for the upcoming school year," Popp, who is running alongside Vanessa Cadavillo, said. "So we really wanted to incorporate that blue into a major portion of our graphic."
SGA candidates certainly do not have the time or money to hire a professional designer or campaign team to ruminate over logos or posters. But these design elements and the symbolism they carry still play a major role in communicating platforms to student voters passing by posters in campus hallways.
Campaign designs, in a way, are much like the branding any organization or corporation creates, DePaul marketing professor Bruce Newman said.
"They play a very important role in portraying what a candidate represents," he said. "They encapsulate the meaning that people attach to whatever it is."
An effective design or logo quickly communicates a wordless and distinctive meaning to a wide audience. A Nike "swoosh" signifies sleek athleticism; McDonald's yellow and red are bright, fun and warm. A brand logo — and likewise, a campaign design — needs to stand out and evoke a quick, emotional and rational response, he said.
"It's important that there be an ability to have a visual representation in people's minds," Newman said.
This year's Student Government Association pegs two tickets against one another: Popp and Cadavillo are running on a ticket with Damian Wille, Patrick Pfohl, Kristina Pouliot and Adriana Kemper. The second goes by the name Vincentians United, and includes presidential candidate Luke Kula with vice presidential candidate Michelle An, and a cabinet of Tyler Solorio, Lindsey Salter, Cara Anderson and Joseph Kerins.
Because both tickets view improving DePaul affinity as a priority, saturating their posters and materials in blue was a conscious decision.
"I knew I was going with a blue hue; DePaul is known for its blue," Dana Brandle, a School of the Art Institute alum and graphic designer responsible for Vincentians United's campaign, said. "But I didn't want such a deep blue for VU. I needed something lighter, modern and lively."
Brandle said she was given free reign for the assignment, with VU members trusting in her vision. The result is clean and cool. Posters with thick white borders feature photos of a buttoned-up VU, their names and positions in the crisp sans-serif font Gotham below. The "VU" logo is in Valkyrie, an elegantly curving serif font that Brandle said she's used in the past for logos.
Similarly, Popp said his goal was to create a readable and distinct look, but wanted to take a warmer approach, pulling hues from one of Cadavillo's dresses in a photo.
Wille, Pfohl, Kemper and Pouliot's designs, created by DePaul graphic design student Anam Merchant, also springboarded from photography, a centerpiece in their materials. Many of the elements used were intentionally symbolic.
"One thing that was really intentional is that we wore … (shirts) that represent different part of the university that we're from," Wille said. "So it all represents different parts of the university that we're involved in, but we all come together with those sorts of perspectives to create this unified group of people."
There's also the logistical issues. Dark blue doesn't translate well to a print background and drowns out text, and DePaul's printing does not allow bleeding to the edges, so a white boarder is necessary. Candidates and designers are pressed for time during a whirlwind campaign.
But the litmus test for campaign designs is whether they communicate messages to a target demographic, Newman said. Wille, Pfohl, Kemper and Pouliot wore T-shirts and used vibrant hues to demonstrate approachability. Brandle's work sought to forward VU's change.
"I hope it conveys a breaking from the old; a time for change and new thoughts," Brandle said. "I think VU is very much about bringing new ideas to DePaul, and really pushing for growth and progress."
Though a different shade of blue hanging on a bulletin board might not change voters' minds, it might spur them to listen to the promises candidates make.