Inside the mind of Pixar's 'Inside Out'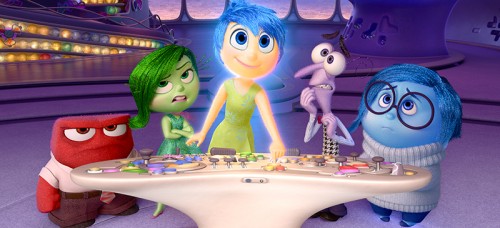 To talk about a film that takes place inside one's mind, it is only fitting to begin in the mind of its creator, a man whose imagination has spawned worlds so unlike ours, they've become an escape for children and adults everywhere.  Whether it's a toy cowboy and his spaceman partner, or a corporation of monsters playing tricks behind our doors, or even the unthinkable duo of an old widower and an adventurous Boy Scout — Oscar winner Pete Docter has become a sort of Renaissance man in the artistry and storytelling behind some of Pixar's most classic films.
And his next feature, "Inside Out," could be his most daring.
Taking place in the mind of 11-year-old Riley Anderson, the film follows her five emotions — Joy, Anger, Disgust, Fear and Sadness — in their attempt to guide her through her adolescent life.   
In a phone interview, writer and director of the film Pete Docter and producer Jonas Rivera described the five-year process of creating "Inside Out," which they described as similar to raising a child.  A rather fitting comparison, given its inception.
"The concept kind of came from watching my kid grow up," Docter said while giggling in the background to Rivera.  "She was very energetic and jumping around, just happy all the time.  And then when she turned 11 she got a little more quiet and reclusive.  And I was telling these guys about it and we were like what's going in inside her head, you know?"
A question, Docter quickly molded into an idea.
"It was this idea of really featuring emotions as characters," Docter said. "This was our chance to kind of personify them."
From here, the latest Disney animated film drew influence from the first, "Snow White and the Seven Dwarfs." Just as Docter took inspiration from seven unlikely heroes, he created his own five.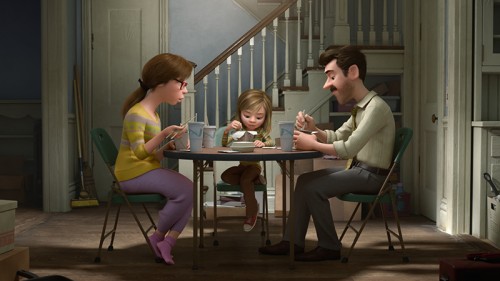 Through months of research with psychologists and psychiatrists across the globe, Docter developed and handpicked five emotions to become a new line of characters for his next film.
"Some people told us there were three (emotions), some said there were 27," Docter said.
"So we thought we chose wisely," Rivera chimed in.
And from that development Pixar had greenlit its next film, jumpstarting its next step of casting the emotions.
"I think in the very initial pitch for the movie Pete mentioned Louis Black as Anger," Rivera said.  "Obviously it was such a fit, and Louis teased us about that later when we actually casted him.  He said, 'what a brave choice to cast me.'"
"Clever guy," Docter said.
Rivera explained having to watch dozens of films, searching for the perfect fit for each emotion, each character.  The hardest of the five to cast was Joy.
"A lot of people said, I really don't like Joy as a character, which is a problem because she's our main character," Docter said, comparing the early development of Joy to that one friend who is "always happy, but you kind of want to strangle them."
With luck, Docter and Rivera finally found their perfect fit for Joy: SNL veteran Amy Poehler.  And since the last of the five was finally cast, the actors began recording.
Following the footsteps of Disney's earliest animation films,like "Dumbo" and "Cinderella," the cast recorded their lines first, before being animated over so "that way the actor has a chance to play around with the lines," Docter said. He explained that other animators, like Japan's Hayao Miyazaki, go the other route to get complete control of the performances.
"In our case we had such amazing ad-libbed and improv actors that a lot of the stuff was just them acting on the fly, coming up with stuff and we'd end up using that."
With the lines dubbed, the last and arguably hardest step of the film was next: the animation itself. And it's in the end here — in this colorful canvas of animation — where Docter advocates that this medium is not just a place for children.  It's much more than this dismissive subcategory set aside at the "kids table."
Animation is an escape.
It's more than bright lights glimmering on a theater screen; it's a world of wonder and imagination.  And in that imagination is an idea from its very creator.
"We often get asked, 'whom are you writing for?'" Docter said. "And the answer is, and always has been, ourselves."
"Inside Out" opens in theaters June 19. The newest Pixar film stars Amy Poehler, Bill Hader, Lewis Black, Mindy Kaling and Phyllis Smith.