Editorial Board: DePaul SGA endorsements
Hang on for a minute...we're trying to find some more stories you might like.
In many ways, the DePaul Student Government Association (SGA) is a microcosm of DePaul University itself, which has proven to be both a blessing and a curse for the students in which the body seeks to serve.
On the positive side, SGA stands for Vincentian values, evidenced by the organization's commitment to service in the community year-round. And on a campus that overall lacks school spirit, the organization shamelessly "bleeds blue" by heavily promoting Blue Demon pride and affinity.
Now if only the organization were as transparent about basic good government policies such as publishing meeting minutes and banning the use of secret ballot votes as they are about showcasing that Blue Demon pride. In this light, SGA mirrors the university's worst tendencies. While a little different in nature, the idea is the same. It creates a cloud of secrecy and reinforces the idea that student government is not open for all.
While making positive change can be difficult, it is much easier to accomplish from within rather than from the outside. This is why SGA elections are important, and this is why the DePaulia is breaking recent precedent to endorse candidates for president and cabinet-level positions.
For president: Vanessa Cadavillo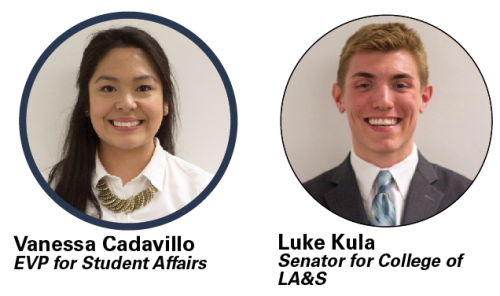 With a student population of more than 24,000 and on a campus as diverse and with as many competing interests as DePaul's, the job of president is daunting. This person serves as the official student voice to the board of trustees and university administration, they sit on several university committees and they set the agenda for the SGA.
As students, this is our person who has a seat at the table when important issues like tuition are discussed. It is vital the right person is at the table to speak on our behalf.
We believe Vanessa Cadavillo, the current Executive Vice President for Student Affairs, is that person.
Being a senator her first two years before moving into an executive role this year, she knows how the institution works and how realistic change can be reached.
In addition to her three years of service on SGA, Cadavillo has served in several leadership roles within her sorority and she is an orientation leader. She is more than prepared to rub shoulders with university power players in order to benefit students. Cadavillo is endorsed over current Senator for the College of Liberal Arts and Sciences Luke Kula, who is heading the Vincentians United ticket.
Kula did not make it easy, however. His forcefulness regarding making SGA more transparent is the type of enthusiasm we wish every candidate shared. In addition, his idea of creating a student advisory board to oversee public safety showed his ability to think outside the box.
Yet Kula's only executive experience thus far is his service as the president of the congressional debate team. And while he had many nice things to say about getting non-traditional students such as transfers and commuters involved with campus life, Cadavillo is the definition of a non-traditional student. As a first-generation college student who has commuted from the suburbs for the past two years, she understands the challenges facing non-traditional students and is the best candidate to address those issues.
Still, there are some issues we have with Cadavillo, especially regarding transparency and initiatives. She was non-committal when asked about making common sense reforms such as abolishing secret votes and publishing meeting minutes. And many of her initiatives are vague and mirror those of previous administrations.
While we think she is the best candidate for the job, we encourage her to bring new ideas to the table and directly tackle the transparency issues that have plagued SGA for far too long.
EVP for Academic Affairs: Tyler Solorio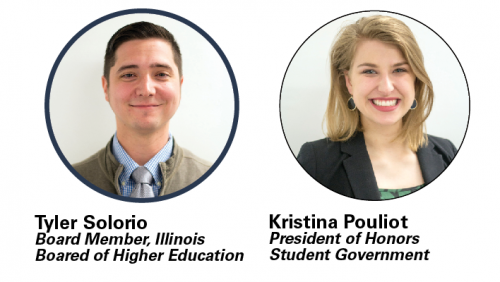 At a university that has had four different provosts over the past four years, and one that has not escaped the debate over the rise of contingent faculty in academia, it is imperative that whoever is elected to serve as Executive Vice President of Academic Affairs is pro-active in ensuring that student interests are not lost in translation.
Fortunately, both candidates running for the job are extremely well-qualified and well-versed on the issues.
Yet of all the candidates running for SGA office that we interviewed, Tyler Solorio, of the Vincentians United ticket, impressed us the most. He is endorsed.
Solorio, like Cadavillo, is a non-traditional student and has emphasized throughout his campaign the necessity to cater the academic structure to students who cannot devote 100 percent of their time to school. "Non-traditional is the new traditional," as he put it.
In addition to being an army veteran, Solorio serves on the Illinois Board of Higher Education, where he leads policy discussions on how to help non-traditional students succeed. He has lobbied in Springfield on a plethora of issues and has previous student government experience serving as Vice President of Oakton Community College's SGA and serving briefly in the DePaul SGA senate.
His ability to lead is unquestioned, and his experience outside the DePaul bubble gives him a distinct advantage over his opponent, Kristina Pouliot.
While Pouliot also has vast leadership experience in many university organizations, we are concerned with the prospect of her holding an executive level SGA position while simultaneously serving as the president of Honors Student Government. The concern is over both ethics and ability to juggle the responsibilities of two important positions.
EVP for Student Affairs: Patrick Pfohl
With relations between SGA and student organizations, and relations between the student body and administration regarding student safety and wellness policies not as great as they could be, it is important for the Executive Vice President of Student Affairs to open a dialogue on the tough topics between these different groups. 
The best candidate to facilitate dialogue is Patrick Pfohl, who is endorsed over Cara Anderson of VU.  In addition to his charismatic personality, Pfohl is the vice president of Act Out DePaul, the university's LGBTQ organization, as well as an orientation leader. He has the ability to bring people of many different backgrounds together. He has the best opportunity to succeed in this role.Anderson is relatively new to campus. A freshman who transferred in during winter quarter, we give her credit for running and hope she stays involved in the future.
Treasurer: Damian Wille
As co-chair of the SAF-B board and chief financial officer of SGA, the treasurer has significant power both within the organization and at the university level.
Damian Wille is the most qualified candidate for the job, and is endorsed. He succeeds in the position's most basic duty of handling budgets with his background as a finance major, but also expands upon it with his experience as the scholarship coordinator for undergraduate admission. He has a deep understanding of what the position entails and would provide clarity to student groups who have found the SAF-B process difficult to navigate.
The other candidate, Joseph Kerins, offered some good ideas regarding transparency and getting students involved in the process. But at the end of the day, Wille had a clearer idea of what responsibilities of treasurer are.
EVP for Operations: Adriana Kemper
EVP for Operations deals with much of the nuts and bolts of campus life at DePaul, such as initiatives to make campus more sustainable and nutrition of campus dining options.
Both candidates for this position had good intentions, especially regarding sustainability. The difference here is that in her capacity as Senator for First Year Students, Adriana Kemper has already dealt with many of these issues and is familiar with them. She knows what needs to be done operationally. She is endorsed over Lindsey Salter of VU.