Deep roots underlie the police brutality problem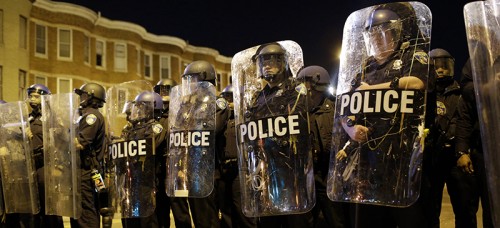 After student protests on DePaul's campus, around the city and in the country against police brutality, there seems to be a consensus about the need for change — not just regarding brutality, but the institutions that lead to it.
Amidst the furor, even the United Nations has spoken out against the United States' policing practices, framing the issue as a systemic human rights violation of concern to the international community. Gladice Pickering, a Namibian representative from the U.N.'s 117 nation-member Human Rights Council, appealed for US officials to " collaborate closely with marginalized communities to fix the broken justice system that continues to discriminate against them, despite recent waves of protest over racial profiling and police killings of unarmed black men."
Such scathing outcry has put U.S. officials on their backs to find new solutions. The introduction to the 21st Century Policing commission report by President Obama's recently appointed task force states, "Trust between law enforcement agencies and the people they protect and serve is essential in a democracy." The task force came to be after the death of Mike Brown in Ferguson, Missouri, one of the many instances of police brutality that sparked protests and calls for reform from various communities.
The 109 page report made policy recommendations to the president on matters of police brutality, and can be connected to the recent announcement by Obama to limit military equipment access allowed to police departments nationwide.  However, as America has seen more deaths of unarmed black men and women, the focus should widen, taking into account not just the rampant police brutality in some police departments around the country, but the underlying roots for why it is there at all.
It's easy to focus on police brutality given its frequency in the headlines of major and minor publications alike, but the roots of brutality in the communities it affects are just as important as the deaths in the headlines. The quality of these communities is directly related to their income, which in turn determines the resources received and the quality of life for those living there. Race and class segregation, according to Horace Hall, associate professor in the College of Education, has a visible connection to local school revenues.
"In America, as in most parts of the world, race is inextricably linked to quality education. Racial inequities entrenched in systematic policies and practices yield unequal opportunities in academic achievement," he said. "Low income or high poverty youth attending racially segregated schools are not exposed to high-quality, advanced curricula, highly qualified educators, smaller class sizes, or much needed social networks as often as students in more affluent, majority white schools."
Law enforcement agencies represent the front lines of the criminal injustice system, Hall believes. The effect of law enforcement on communities results in officers and bad police as a unit "determining who will be targeted for heightened surveillance and policing, as well as who will be fed into the prison-industrial complex." African Americans — and young black males in particular — comprise a higher percentage of citizens arrested or killed by police because they comprise a higher percentage of those who have negative police encounters, Hall asserts.
Structurally, this is exacerbated by policies dating back to the mortgage insurance programs led by the Federal Housing Association in the '30s, '40s and '50s that largely excluded African-Americans, according to the Economic Policy Institute and the Department of Housing and Urban Development.
Those living in lower income areas, where crime may be heightened compared to other areas, may also see a larger police presence. Sandtown, Freddie Gray's neighborhood in Baltimore, has a poverty rate of 30.9 percent, according to a PBS Newshour report, compared to the national average at 14.7 percent. The unemployment rate of the town, which stands at 21 percent, is also much greater than the national average at 5.5 percent.
Income also determines where one can live. The segregation of housing led to the creation of cheaper housing projects and the creation of the larger problems seen today. Housing segregation's connection to the quality of education students receive also influences resources for schools, which can be based on property taxes and the general quality of the area.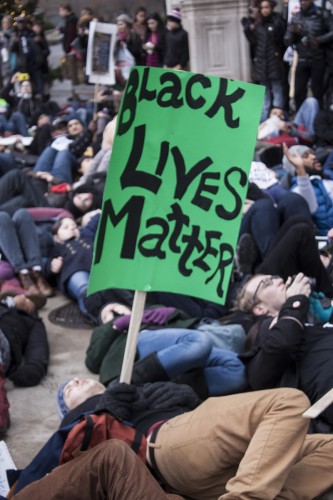 The quality of public education varies, of course, but until the problem of uneven resource distribution is addressed or resolved, institutions such as education and housing will continue to affect the success rates of African-Americans. The lack of change can be attributed to varying opinions on why the issue is still prevalent. Valerie Johnson, associate professor and chair of the political science department, believes that addressing public education and its faults on a societal level is important for progress. Public awareness is key.
"People don't want to see it as race. America created the ghetto, it concentrated poor people together," Valerie Johnson, chair of the Political Science department said. "Democracy has never treated everyone equally. You can't marginalize people and wonder why they act differently."
The marginalization and its impact can be seen in both Ferguson and Baltimore, where the deaths of Brown and Freddie Gray resulted in protests and riots. Blackness, Johnson feels, is still condemned in society, and it is "not a leap to think blackness is vilified." She points to the difference in incarceration rates as evidence, asking, "How is it that blacks make up a smaller portion of arrests but (comprise) a larger portion of convictions?"
In Sandtown, the incarceration rate per 100,000 people is 3,074 people, compared to the national rate of 455, and the juvenile arrest rate per 1,000 people is 211, much higher than the nationwide average of 39.4 adolescents arrested. It is unclear whether the problem can be fixed outright, currently and in the future, but there is hope and ideas floating around.
"The answer, to me, begins at a policy level. Policy is largely responsible for getting us to where we are today," Hall said. "We need policy responses from both class-based and race-based perspectives if underlying patterns of privilege are to be altered. This requires creative coalitions and political alliances developing strategies that disrupt reproductive institutional disparities."
Among the proposed policy programs includes community policing, which would involve more mutually beneficial collaboration between citizens and policemen. Susan Bennett, a public policy professor who has researched and evaluated community policing programs in the past, described the process.
"Police beats would hold meetings with community organizations and members, who would bring up problems. In one beat, a building was identified as having serious drug activity," she said. "Residents even helped with observations — how many people come in and out, and when — and they worked with inspectors and others to make sure dangers were cleaned out and people got the help they needed."
"I would say community policing can be successful … but they require everyone to get behind the program," she continued. "Many police unfortunately are not trained to view community matters as part of their duties. With the direction policing is going, militarization, I don't think this is trending the right way."
"Correcting the system calls for a re-envisioning of it. I think transformative change is more achievable today than ever before. The information age in which we live certainly provides the means for effectuating and expanding collaborations based on organizing, innovative advocacy, policy analysis and litigation," Hall said.  "Shared approaches to social justice and human rights versus race, class or gender oppression can push Americans to collectively disrupt, in some way, the existent status quo."
This challenge to the existent status quo may be the largest problem, informing the public one of the most crucial steps forward. To Johnson, it is important to show why a change in institutions is in the interest of America and why those who are part of the status quo should do so, but she stated, "We cannot have that conversation until we have the conversation about race."
Though the academic year may be ending, the issue is not. In fact, as the weather heats up it is a fair assumption that the nation will see more deaths. Addressing these deaths, at the hands of police officers and otherwise, will depend on the readiness of the society to have a conversation and begin making changes.
"Although organizational modifications appeal to the public, real improvements in police-minority relations demand other avenues of change, ones that focus on the structural roots of the problem and that challenge existing social arrangements," Hall said. " Police brutality should be understood as a social and psychological relationship between police and policed citizens. As long as poor, violent apartheid social conditions exist, tensions between police and residents is inescapable. If economic and spatial conditions are improved, then there is a greater probability of police-minority relationships also improving."
View Comments (3)