Morning after: Greeks united, proud of their defiance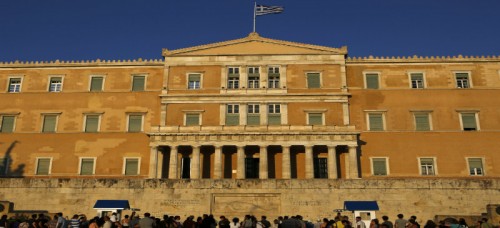 ATHENS, Greece (AP) — Nicky Zachary closed her family's shoe store just a few hours after opening it Monday after the few customers who had strolled in hadn't bought a thing. But she was not discouraged — she thinks a landmark "no" vote in a nationwide referendum has bonded Greeks together.
"We can live with very little and we can live through difficult situations," said Zachary, 50. "I think, after the referendum, the Greek people are united in this situation. I don't want to lose the dream for a better Greece. I want to have hope for a better deal."
Across the country Monday, Greek banks remained closed, access to cash was severely limited and it was far from clear when or if a fresh bailout deal with international creditors could be reached for this deeply indebted nation.
Yet there was pride and defiance in Athens after a lopsided referendum victory Sunday for those who want the Greek government to reject the demands of European creditors for more austerity, including further cuts to pensions. Greeks know full well they are whisper-close to financial ruin but many feel they have at least reclaimed their dignity.
"Something happened last night with the Greek people," said George Papadokostakis, 34, who runs the Due coffee shop in west Athens. "I'm very happy. We were in a dead-end situation (but) with the 'no' vote we believe there may be something better. I thought we were dead, now we have a small hope."
He thinks the "no" vote will help Prime Minister Alexis Tsipras' government get a better deal from its European creditors. Indeed, three Greek opposition parties signed a declaration of support Monday for Tsipras in future bailout talks, adding to the backing he has from his governing Syriza party and junior partner the Independent Greeks.
Still, these good feelings do not mean that business — or life — is good. The bank closures, now in their second week, are having a devastating impact as Greeks hold tightly onto what cash they have, fearing the banks might even run dry. Cash machines are limited to dispensing 60 euros ($66) per customer each day. No one has access to their safe deposit boxes either, where some Greeks are thought to have stashed cash savings.
Small business operators can't use credit cards or money from bank accounts to replenish their stock — they have to rely on the cash generated from customer purchases, which are few and far between.
These restrictions are creating unease that is undercutting the morning-after glow of saying "no" to creditors.
Papadokostakis said the storm generated by the brief yet furious referendum campaign has been replaced with a calm feeling of satisfaction. But he knows the crisis is far from solved.
"I'm afraid this quiet situation will become very anxious and dangerous," he said. "We hope other people don't have to live like us. It's not good to be under this stress."
University student George Yannousis, 21, said he is pleased with the referendum results but deeply worried about what happens next.
"All of us are anxious for there to be an agreement so life can be normal again," he said. "Without a banking system, no one is relaxed and no one is optimistic."
Some said the referendum result, which showed more than 60 percent of Greeks rejecting austerity terms, marks a turning point in Greece's relations with the rest of Europe and the world. They believe the "no" vote expresses an independent spirit in the face of wealthier nations and more powerful financial institutions perceived to be bent on imposing more hardships on Greece.
"I don't think anything has changed yet but I believe the situation will change for the better now," said Vaggelis Arkadinos, a 47-year-old who has stopped paying his rent and utility bills because of a cash shortage. "Now it's worse than ever, but I hope it will soon get better. I expect the government to get us a good deal as soon as possible, so we can get our life back."
Some took particular pleasure in saying "no" to German creditors.
"You can't always say 'yes' to the German will," said shop worker Eleni Lampaki, 50. "Now we will be back at the negotiating table in a better position because of this vote … part of our debt has to be forgiven."
She said the constant German demands for more Greek austerity reminded many of Germany's harsh wartime occupation of Greece— a time in which many Greeks went hungry for years.
"I have the memory of my parents from World War II," she said. "And I think the Germans hate the Greeks because of our resistance during the war. It's a personal issue for them."
Lampaki said the "no" vote will help future generations even if there is hardship ahead.
"I think the Greeks have been very powerful to say 'no,'" she said. "This was a vote for the future of the country, for our children and grandchildren. We did the right thing. There was a revolution yesterday."