Review: Mourn at Schubas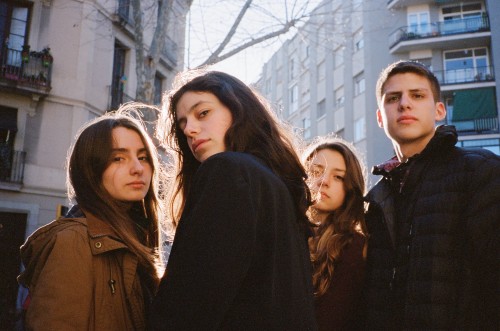 If Mourn was even the least bit tired from playing Pitchfork Music Festival a mere hours earlier, the crowd definitely couldn't tell from their after show performance.
Startropics, a local Chicago band, opened for Mourn at Schubas on July 19. Startropics is a band that gets better throughout their set. During their first song, I was quick to write them off as another indie pop band that everyone would probably forget about after the show. However, after a few more songs, Startropics' true colors shown through. Blending slightly harsher and more monotone male vocals with soft, romantic female vocals, Startropics make their indie pop sound a smooth, dreamy, carefree kind. Taking obvious influences from shoegaze, Startropics satisfied the audience before Mourn clambered on stage.
To be frank, all members of the Catalonian band, Carla Perez Fas, Jazz Rodriguez Bueno, Antonio Postius Echeverría, and Leia Rodrigues Bueno, are honestly just cooler than any teenager ever will be. Though all 18 and under (Leia Rodriguez is only 15) and small and slight in appearance, Mourn has an overwhelming sense of control with their music and their stage presence.
Sure, there were a few silent pauses throughout the set while the gangly teens took sips of water or readjusted their instruments, but neither Mourn nor the audience seemed phased by this. Instead, it gave the crowd a few moments to soak in what they were witnessing – a punky, snarling, visceral rock band that's just plain better than any young band out there.
Skipping the crazy stage antics like stage diving and smashing their guitars, Mourn still captures the attention of the audience by fusing together bashing drum beats, feral screams, low, powerful vocals, and dramatic, gritty guitar dynamics. It's as if the Ramones ditched the quick licks and instead played like a deep, infectious buzz that's incredibly angry.
"We wrote this song while ditching class," stringy haired, sweating Bueno said from the mic stand before launching into another song off their self-titled, debut album. Although attention demanding and honest while singing about jerk boyfriends and going on foul-mouthed rants, Mourn is grateful and endearingly quiet while thanking the audience between songs. It's a hearty dose of teen angst, but to compliment them and say "that's pretty good for a couple of kids" doesn't cut it. Mourn's live show and their sound would be classified as great rock and roll at whatever age they were.