Lollapalooza outlook: Discussing the festival's lineup and expectations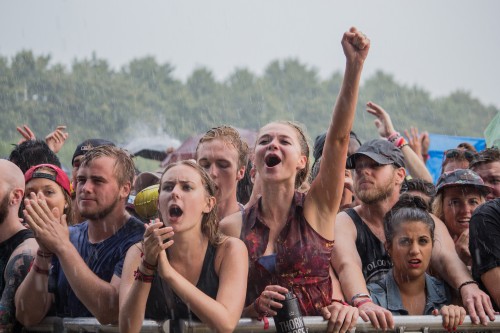 As Chicago's biggest and most famous music festival approaches, Digital Managing Editor Kirsten Onsgard, Arts & Life Editor Erin Yarnall and Photo Editor Josh Leff dissect the lineup, experience and expectations of Lollapalooza 2015. Check back for daily recaps this weekend.
Kirsten Onsgard: Before we dig into the lineup, because this is my fifth Lollapalooza and both of you are first-timers, what are your expectations? What do you think it will be like compared to other fests and what have you heard?
Josh Leff: I'm very excited for Lolla as it will be my first musical festival ever. I'm expecting it to be an amazing experience and a great take to get some really good shots of the shows. I hear Lolla is a great time and atmosphere.
Erin Yarnall: I've been to a few music festivals so I'm a little less optimistic than Josh. I think the music is going to be incredible — I'm genuinely in shock that my life is blessed enough to allow me to see Paul McCartney — but I'm not looking forward to all the people there. I've heard all about the drunk teenagers that make Grant Park their home for the weekend, and I'm really dreading that, but overall I can't wait for the music and to finally get to see the legendary Lollapalooza with my own eyes.
So you've heard our thoughts on what we're expecting. How accurate were we?
KO: Oh wow Josh, this is going to be quite the experience. You'll love it.
I'm a bit jaded when it comes to Lollapalooza. It was my first festival back in 2010, but I'm not sure if the popularity has made me less enthusiastic, or the fact that I've come to love other festivals (Pitchfork and Bonnaroo). Still, this year's lineup has me optimistic.
Speaking of which: who are you most excited to see, and what do you think of the lineup overall?
JL: I'm most excited to see A$AP Rocky, Kid Cudi, Paul McCartney and various EDM artists.
EY: I'm definitely most excited for Paul McCartney, that's going to be amazing. On his latest tour he's been playing 40-song sets with two encores so it's going to be incredible. I also can't wait to see The Wombats on Sunday! They're one of my favorite bands, and I drove 12 hours round trip in May to see them in Ohio. It'll be nice to not have to make that drive to see them again.
Also, after seeing them at Pitchfork I've become obsessed with the band Bully. I'm sure their set will be phenomenal. What about you?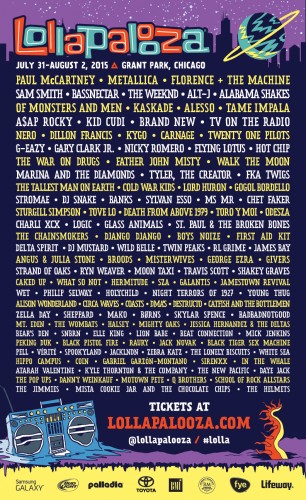 KO: Last year, I felt like the lineup was pretty lazy: Kings of Leon and Eminem are pretty lackluster headliners, and by the time Outkast played Lolla, they'd already booked a huge reunion tour. Minus a few interesting under cards – Darkside before they broke up, Chance the Rapper as a headliner at Perry's and Run the Jewels right before "Run the Jewels 2" dropped – the remainder of the lineup was fairly dull.
This year, the headliners aren't terribly surprising but a lot stronger. Obviously, I'm also excited to see Paul McCartney. I was lucky enough to see him at Bonnaroo 2013, and though it might seem like he's better suited for stadiums, he puts on a great festival show; singing "Hey Jude" with over 60,000 festival goers was incredible.
I'm also looking forward to seeing what Tame Impala does with their live show after dropping "Currents," and it'll be my first time seeing Father John Misty and Hot Chip, both of whom are touring in support of new records. Besides that, there's The War on Drugs, Badbadnotgood, FKA Twigs, Charlie XCX and Bully (whose Pitchfork set also completely solidified my obsession). Sorry for the laundry list, but I'm loving this lineup.
My only beef is that Flying Lotus' set overlaps Paul McCartney, but you've got to have priorities I suppose.
Like I told you both, Lollapalooza is a marathon, not a sprint, compared to Pitchfork or Riot Fest. What are you guys bringing with you each day? And Josh, what gear are you using?
JL: I'm bringing two Canon 6D's, and a 50mm, 24mm, and 70-200mm lens.
EY: I feel like I would have been really into Eminem's set last year. My brother is a young white male, so of course he loves Eminem, and as much as he is a horrible person and really bad now, Eminem was like a huge part of my youth because of my brother and I would have loved to see that, but is there a band more boring than Kings of Leon?
This year I'm for sure bringing a lot of water. I was so overheated at Pitchfork and it led to me laying in the grass, half-listening to the music for the most part. I don't really know what else to bring. Do you have any suggestions?
Also a question for both of you – what would your dream Lolla lineup be?
KO: Irrefutable fact: there's no band more boring than Kings of Leon.
I'm likely using my faux CamelBak (kind of dorky, I know, but I'm not one to sacrifice comfort for style). Call me a mom, but I'm also bringing sunscreen, a phone charger, poncho, hair ties, hand sanitizer and tissues (because you never know when the porta potties will run out of toilet paper).
For my dream lineup, I'll try to be somewhat realistic. Lollapalooza tends to use the general large-scale festival format with at least one hip hop, legacy act, rock and EDM headliner, so I'll pick Kanye, Jack White, Paul McCartney, Pretty Lights and Vampire Weekend. Essentially, if you were to mash together Pitchfork 2011, Lollapalooza 2012 and Bonnaroo 2013, that would be my ideal festival, but I know by Lolla's standards, that isn't going to happen.
Ideally, I'd like to see them beef up their undercards again. I'd like to think that I'm somewhat up to date with music, but I've heard of almost no one on the last ten lines.
[box]Read our coverage of Pitchfork Music Festival[/box]
JL: I would like to see A$AP Rocky, Wiz Khalifa, Oliver Heldens, Juicy J and a few others as my ideal headliners.
KO: Obviously Lolla wouldn't book so many hip hop headliners, but where is the hip hop headliner this year? I had my money on Drake.
EY: I wish Drake was playing. That would be incredible. I think my dream lineup by those standards would be Elton John, Nicki Minaj, Vampire Weekend and I don't know anything about EDM so uh, Skrillex?
I really like how diverse the lineup is, as it truly makes Lollapalooza a festival for everyone (well, everyone who can afford the price.) Speaking of the price, how do you guys feel about how attendees have to purchase tickets before the lineup is revealed? Honestly, that's always turned me off of Lolla, because what if it's an awful lineup and you're just stuck?
KO: I think it speaks to the larger idea of festivals being an experience, and not solely about music. It's reflected too in how we even refer to them; we usually say, "I had a great time at Lollapalooza this weekend," not "I had a great time seeing Paul McCartney, Metallica, etc."
I've bought tickets early to Bonnaroo because I trust that AC, Superfly and now LiveNation will curate a great festival and give me a great time, and likewise you have to trust in C3 and LiveNation to maintain the Lollapalooza brand. There's also the fact that Lolla is huge, city-based, a rite of passage for many young people, a daytime (non-camping) festival and the hot ticket to have. While I wish I could see the lineup before shelling out the cash, I don't see that changing anytime soon, and it's more about buying into the experience than the bands.
Final thoughts?
EY: That's so true. I never thought of it that way, but I'm a Lollapalooza newbie so I haven't had the festival experience yet. I can't wait to go this year and share my thoughts on my first time attending with everyone. Hopefully I'll love the experience enough to shell out the cash for a ticket next year.