Cross-country music festivals worth the road trip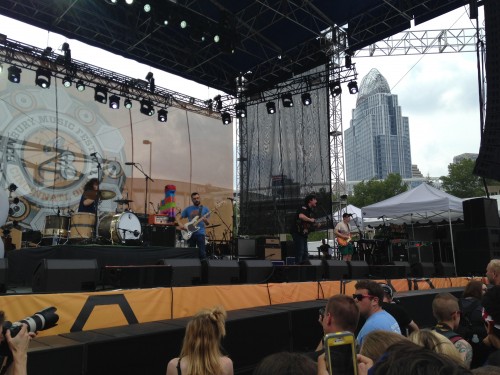 June 5, I found myself packing my dad's SUV with camping equipment and really unhealthy snack foods in preparation for my 6 hour journey to Cincinnati with my three best friends. We were roadtripping to Bunbury Music Festival, whose lineup boasted the likes of The Black Keys, The Avett Brothers, Snoop Dogg, Twenty One Pilots and my two favorite bands The Front Bottoms and Brand New.
When I first discovered the lineup for Bunbury, I had never even heard of the festival before. But upon seeing some of the bands that were playing and that the festival fell over my birthday weekend, planning to make the roughly 330 mile drive to a city I had never been to seemed like a no-brainer.
Road trips to far off music festivals have become a norm, but what exactly makes these distant ventures so appealing? A road trip provides that sense of adventure and freedom that every college-aged student craves. I had never camped or road-tripped outside of the state, so I was really looking forward to the experience. Between hanging out at the campsite that we struggled to set up, making multiple stops at the nearby Waffle House, and spending a majority of our three days listening to great music, my road trip was one of the best experiences of my life
I wasn't the only DePaul student to make the trek to a festival. The lineup for Buku Music Festival, featuring acts like A$AP Rocky, Empire of the Sun, and Bassnecter, was enough to inspire DePaul freshman Nate Samuelson to board a Greyhound to New Orleans with his best friends in search of that feeling of freedom.
"That's the fun in it," Samuelson said, "when you're roughing it and you're the only one in charge".
Oscar Diaz also felt compelled by the freedom such an experience would bring.
"When you're traveling on the open road, you have so much more freedom" saud Diaz, who traveled to the Country Thunder festival in Twin Lakes, Wisc. last summer. For Diaz, making the trip was a tradition among his high school classmates.
"Spending time with your friends and making memories made it the best day ever" Diaz said about his time at Country Thunder, which happened to also fall on his birthday.
It's not just the freedom that comes with these types of trips that is bringing people to music festivals across the country; it's the kind of atmosphere that they create. Nothing can compare to the feeling I had when about a hundred people sung happy birthday to me while I was waiting for my favorite band to take the stage. That's the beauty of music festivals; they have a way of bringing people together and creating a community.
"It's kind of like an escape," Samuelson said, "You don't have anything to worry about. It's a shared experience with everyone that's there and it contributes to that really cool vibe that music festivals end up having."
For me and others like Diaz and Samuelson, road tripping to a music festival has created memories that will last forever. As long as you're with people you care about, the road trip experience will always be worth it, no matter how distant the destination.