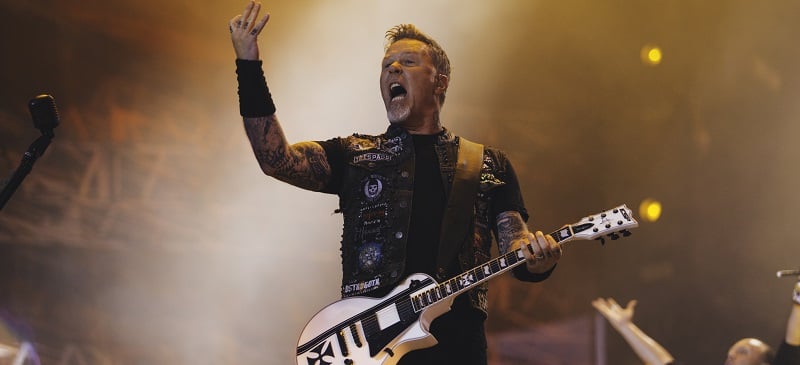 [slideshow_deploy id='13599′]
Following up such an impressive first day of Lollapalooza must have been intimidating for the acts performing on Saturday. Truthfully, the day wasn't without its hitches: rapper Travis Scott urged the crowd to rush the stage, which caused security to end his set within minutes and Scott was arrested for disorderly conduct. But with phenomenal performances in such a wide array of music, ranging from pop stars, to rappers, to legendary heavy metal band Metallica, Saturday stepped out of the shadow of Lollapalooza's incredible opening day.
Ryn Weaver
Ryn Weaver may have shuttled suddenly into mainstream consciousness thanks to a viral hit, but even after just a year under the spotlight, she was at ease on the sought-after Lollapalooza stage. Her vocals fluttered on the title track of her debut album, "The Fool," and lilted effortlessly on the down-to-earth "Traveling Song." Between powerfully commanding every inch of the stage and playfully bantering, she's a natural performer who's honest and endearing without being ingenuine. Though her album and music might not be outstandingly unique, 2015 has certainly been a breakout year for Weaver. Give her a few more good ones, and she'll be back with a much bigger stage underfoot. – Kirsten Onsgard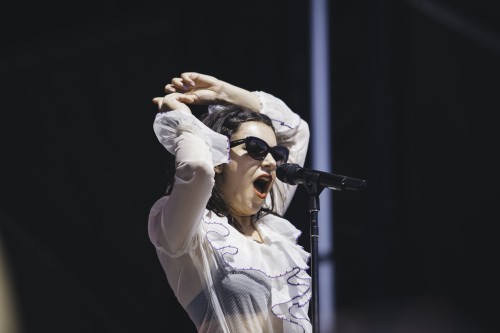 Charli XCX
Written off by some as just another internet age pop star, Charli XCX, the British singer who is famous for some of last year's biggest hits including "Break the Rules" and "Boom Clap," proved critics wrong during her stellar performance on Saturday. Most of Charli XCX's set was comprised of some of her best songs off of 2014's "Sucker." The crowd was surprisingly large for a set so early in the day, and even in the blazing sun they danced the day away, especially when Charli XCX performed two of the biggest songs she has been a part of, "I Love It," in which she collaborated with Icona Pop and "Fancy," which she co-wrote with Iggy Azalea and sang the chorus on. – Erin Yarnall
Toro y Moi
A little midday heat on the concrete couldn't stop fans from getting down to some chilled out disco beats courtesy of Chaz Bundick. He's not the best at demanding the full attention of an audience, whether it's at a festival, concert or on an album. Even his newest release, "What For?" which promised a more rock-driven direction, seems to have fallen under the radar weeks after its release. But where he excels is setting a mood, laying down an infectious beat and building up subtle anticipation, inspiring a pirouette or affirming head nod. You might be hard pressed to find a moment when Bundick has been brilliant, but there's no shortage of really good. – Kirsten Onsgard
Tyler, the Creator
After posting on Instagram about how he's sad he was playing at the same time as Tame Imapala, Tyler, the Creator came out on stage saying "Can everybody just yell so I feel better?" Although no one knew specifically why Tyler was sad, everyone in the crowd complied excitedly as he kicked off his set with "Deathcamp," the first track off his latest album "Cherry Bomb." The stage was decked out in "Cherry Bomb"-esque designs, but that didn't stop Tyler from playing hits like "Tron Cat" from his debut studio album "Goblin," and "Sam (Is Dead)" off of "The OF Tape Vol. 2" by Odd Future, the hip-hop collective that Tyler, the Creator was a member of until its disbandment earlier this year. His exciting set filled the Palladia stage area, and made it technically impossible to see from almost anywhere in the crowd, unless you were a fan that had been waiting out for the set. Despite the poor set-up for the Palladia stage, Tyler was still able to make his performance fun and exciting to watch, or if you were one of the unlucky ones, just to listen to. – Erin Yarnall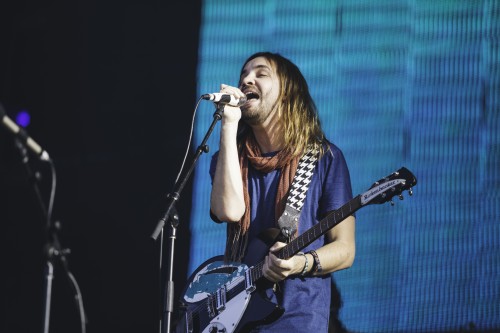 Tame Impala
Kevin Parker is a perfectionist who used to play it fairly safe on stage, keeping the bantering to a minimum and playing tracks largely identically to the album version. But he's grown – and changed – as an artist, and live, it shows. Though "Currents" was a groovier shift from his earlier, psych rock work, songs like opener "Let It Happen" blend flawlessly into "Mind Mischief" from "Lonerism." Outside of a controlled studio space, even tightly-produced tracks like "The Less I Know the Better" air out nicely. He's not afraid to toy with the hit (and moneymaker) "Elephant" and flip it briefly into a bouncing dance track, or confidently introduce "Feels Like We Only Go Backwards" by asking the crowd, "Are you ready?" Judging by the ensuing singalong, they were. – Kirsten Onsgard
[box]Follow our Lollapalooza live blog[/box]
Brand New
Brand New seems elusive, and the fact that a majority of their tour this summer has been at major festivals throughout the world contributes to that feeling. Throughout their set, Brand New didn't speak to the crowd, they just continued to play their set list with songs ranging from throughout their career, starting off their set with "Mene," and working backwards through the band's timeline from there, playing "Sink" and "Gasoline" off 2014's "Daisy," and then playing fan favorites from their older albums "Deja Entendu" and "Your Favorite Weapon." Their elusiveness plays a factor in how great their live show is, as fans take advantage of every moment seeing the band, jumping up and down throughout their set as frontman Jesse Lacey violently thrashes around on stage. – Erin Yarnall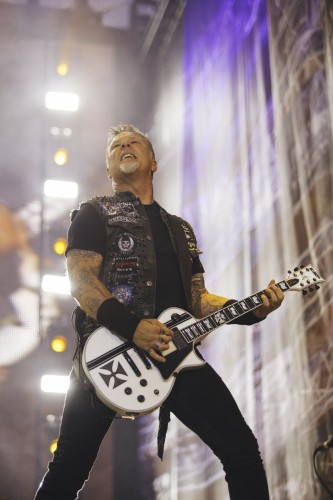 Metallica
Following Paul McCartney has to be somewhat difficult for the rest of the headliners. Although they are completely different genres of music, many people in Metallica's crowd were talking about how they've never seen anything as incredible as McCartney's show the night before. And while Metallica didn't have the massive, never-ending crowd that Paul McCartney had the night before, it was still nearly impossible to see the end of the legendary metal band's crowd. While McCartney is classified as a legend, Metallica could definitely be considered one as well. It's difficult to think of any metal band that hasn't drawn influence from them, and their set at Lollapalooza proved why.
Fans of the band were thrilled with their setlist, which included classics like "Master of Puppets" and "Sanitarium," and started off with "Fuel," a much beloved song off of 1997's "ReLoad." It seemed as if Metallica fans would do anything vocalist and guitarist James Hetfield said, and they soaked in every word whenever he spoke between songs, especially when he asked the crowd if they wanted to hear some heavy music, saying "I hope [our set] sounds heavy. We play heavy music. Do you want heavy?" Without specifying what heavy exactly means, fans of Metallica went nuts as the band led into "Sad but True," off of Metallica's 1991 album "The Black Album."
Metallica played with as much energy and enthusiasm as they probably ever have, and everyone watching in the crowd was able to tell how much fun they were heaving, behind their angry and "heavy" demeanor. Hetfield's voice still sounds great, drummer Lars Ulrich was phenomenal, but the star of the show was Metallica's guitarist Kirk Hammett. Extended guitar solos normally annoy me and seem incredibly self-indulgent, but Hammett performed all of his flawlessly, making the crowd follow his every plucked and strummed string. While Hammett was the star of the performance, everyone in Metallica was stellar. They proved that all the middle-aged men clad in all black at the festival were right, Metallica does still rock. – Erin Yarnall
Sam Smith
Sam Smith was Lollapalooza's safe pop bet, the alternative to dedicated rock fans at Metallica and teens hyped up and stomping about for G-Easy or Alesso – and to that extent, he filled their need perfectly. With his sweet and crisp falsetto, he is a profound vocalist.
But Smith is also the kind of artist whose album you decide to buy while checking out from Target, or hear as you're sipping a frappuccino. While this inspired many a Snapchat selfie and cute kiss between couples, on-stage, he's about as unassuming and generic as it gets. His rehashed explanations of "In the Lonely Hour" included statements like, "This was the first time I was truly honest," and "For me, music is a much deeper thing than (money)." It's nice and agreeable (and the latter is easy to say, if you're Sam Smith), but his boyish grin and lack of genuine emotions were altogether dull.
One of the highlights of the performance was when he dropped the mic and let his outstanding backup band groove into a medley of "Ain't No Mountain High Enough" and "Can't Help Falling in Love." But once he dove back into tracks from "In the Lonely Hour," it once again felt like a corny moment from "American Idol." – Kirsten Onsgard
[box]Lollapalooza Friday recap[/box]