Amnesty International takes realistic stance on prostitution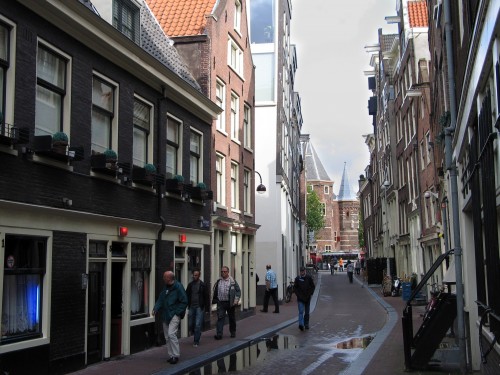 Long considered "the world's oldest profession," prostitution has existed virtually as long as the human race itself. Though the morality behind an occupation requiring a man or woman to sell their body is undeniably questionable, outlawing the industry has only handed over significant power to pimps and brothel owners, all the while placing sex workers in a vulnerable, dangerous position that prohibits them from the security of law enforcement.
Amnesty International, a "global movement of people fighting injustice and promoting human rights," has recently been criticized for trying to combat the danger sex workers face on a daily basis. Amnesty released its Draft Policy on Sex Work July 7, with the main resolution calling for the decriminalization of all aspects of sex work. The draft requested its International Board to "adopt a policy that seeks attainment of the highest possible protection of the human rights of sex workers."
The organization's research revealed that "the criminalization of sex work is more likely than not to reinforce discrimination against those who sell sex, placing them at greater risk of harassment and violence, including ill-treatment at the hands of the police."  The investigation also showed that criminalizing prostitution prevents sex workers from accessing "social protections such as health services, housing, education and immigration status." These exclusions are, in the eyes of Amnesty officials, denials of basic human rights.
Following Amnesty's announcement, a group of influential, powerful celebrities signed a letter addressed to Amnesty leaders denouncing the organization's push to decriminalize the sex industry. The letter clearly states its discontent with Amnesty's proposition, saying "(We are) deeply troubled by Amnesty's proposal to adopt a policy that calls for the decriminalization of pimps, brothel owners and buyers of sex—the pillars of a $99 billion global sex industry." Signers of the letter include Meryl Streep, Anne Hathaway, Allison Williams, Emily Blunt and a number of other rich, white women whose lives likely never have and never will be affected by the sex industry.
Maybe these women read the entire Amnesty proposal, and maybe they did not. In the case that they did, they would understand how the criminalization of prostitution only increases the danger sex workers face in their industry.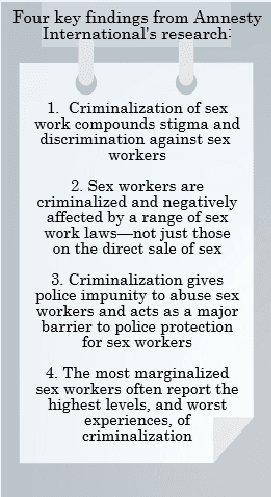 "(Sex workers) are frequently unable to seek redress for crimes committed against them, thereby offering relative impunity to perpetrators," according to Amnesty's draft. "In addition, the stigmatized and criminalized status sex workers experience gives law enforcement officials scope to harass, extort and perpetrate physical and sexual violence against them, also with impunity."
It is important to note that the stereotypical idea of what a sex worker looks like and how they find work is, for many, a fallacy. A majority picture a sex worker as resembling Julia Roberts in "Pretty Woman"—half-naked and walking the streets in search of her next client. This is an extreme misinterpretation as, according to the United States Department of Justice (DOJ), street prostitution accounts for a mere 10 to 20 percent of all prostitutes. A separate study funded by the DOJ found that "providers of commercial sex are found to have high levels of childhood truancy, poor education, poor employment skills and debt."
The Amnesty proposal acknowledges that both poor sex workers and sex workers color are disproportionately persecuted for their work, the fact of which only furthers the argument to decriminalize the sex industry as a whole. Decriminalization would in turn legalize the work of pimps and brothel owners, but it would also prevent them from preserving their total control of the sex workers they employ.
"Decriminalization of sex work does not mean the total absence of any regulation of sex work," Amnesty's proposal states. "Rather, it means that any regulation must be focused on respecting and protecting sex workers' human rights, for example through requirements such as occupational health and safety standards."
Additionally, Amnesty's goal of decriminalizing prostitution would allow sex workers to "enjoy full and equal protection, and effective remedies, under laws on rape and sexual violence," as well as instate "all necessary measures to ensure the effective investigation, prosecution and punishment of violence against sex workers." Essentially, the decriminalization of prostitution is intended to do the opposite of what its opponents claim it would do: rather than create an environment that increases the power of pimps, brothel owners and buyers of sex, it would allow sex workers full rights under the law and provide them the ability to report assaults to law enforcement without fear of arrest or punishment.
Prostitution will not be ended through continued prohibition. Criminalizing sex work has only served to preserve significant power for pimps and brothel owners, enabling them to take advantage of the men and women whose work regularly places them in dangerous and inescapable situations. The decriminalization of prostitution would provide basic human rights to a group that has long been denied such privileges.