Review: "Best of Enemies"
Hang on for a minute...we're trying to find some more stories you might like.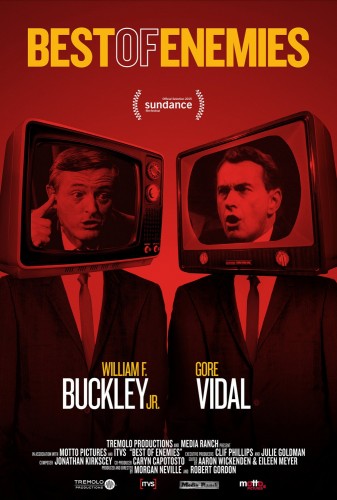 With its abundant archival footage, what "Best of Enemies" does exceptionally well is engross its audience in debates decades old. It paints a clear reflection on how liberal Gore Vidal and conservative William F. Buckley Jr. undoubtedly shaped the future of televised political debates with their commentary on the 1968 presidential conventions that would result in a race between Richard Nixon and Hubert Humphrey.
While this aggressive behavior is more than normal in television today (see this month's Republican Presidential Debate), in the '60s when cable television barely had its foot through the door, Vidal's and Buckley's combative exchanges were unique. That's exactly what ABC wanted when they proposed a series of debates between two opposing intellectual icons. The network was stuck in third place behind CBS's Walter Cronkite and NBC's Chet Huntley and David Brinkley, and their only hope was a gimmick, and an event broadcast TV hadn't yet seen.
When ABC landed Buckley, the most well-known conservative commentator at the time, he had one request: Gore Vidal could not be his opposition. From there, it was safe to say the network knew whom to pick.
There are many people history writes as opposites, but Vidal and Buckley were exactly polar. They despised each other to the point where their only motive was to outsmart the other on live television. In the end, the ten debates between were nothing short of a verbal version of a 10-round heavyweight prized fight. It was exactly what ABC was hoping for.
They were less a discussion on political candidates and more a dispute of morality. When Vidal threw the first punch –  calling Buckley a "crypto-Nazi" – Buckley danced back, delivering his stinging line, "Now listen, you queer. Stop calling me a crypto-Nazi or I'll sock you in your goddamn face and you'll stay plastered."  
ABC's ratings skyrocketed faster than they could imagine.
These were two very smart eccentric characters taking news and creating entertainment within one another before they could even realize it. There are no protagonists in this film, only two antagonists dishing out one another in the first US presidential convention to be televised in color. What makes this film so fun to watch is what would have made the debates fun to watch in 1968: they are pure entertainment.
It's a form of political entertainment familiar today, with talking heads and the latest media characters brawling between each other rather than on the issues. In that way, this documentary is just as relevant to those familiar with 1968 presidential conventions as it is to those who aren't, as directors Robert Gordon and Morgan Neville make abundantly clear. What "Best of Enemies" is at its core, is the clash of political ideologies and the spark that lit the nasty belligerence in political commentary today.