DePaul School of Music student, alum killed in car crash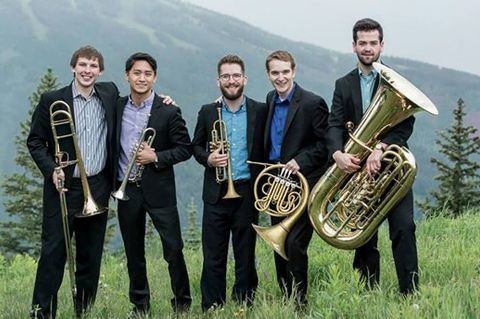 Two DePaul students died Aug. 24 in a car accident on a Wyoming highway after performing at a summer music festival in Colorado. The two friends played together in a brass quintet and were remembered by hundreds of Facebook posts from friends and family Tuesday.
Senior Ben Darneille, 21, and DePaul alumnus Alex Greene, 23, were speeding northbound on US Highway 191 in the southbound lane when they crashed head on into Brent Hawkes, 55, driving a Volvo tractor pulling two trailers, the news report from the Wyoming Highway Patrol said. Darneille and Greene died in the accident at 4:05 p.m. Monday outside of Farson, Wy. and Hawkes was treated and released from a local hospital. All three were wearing seat belts, and drug use and driver inattention are being investigated as contributing factors in the crash.
Darneille, a tuba player, joined Greene's brass quintet, Rendezvous Brass, at the Aspen Music Festival and School for three months this summer. The two were driving to visit DePaul professor Floyd Cooley in Idaho before heading home.
Darneille was going to finish his senior year at DePaul, and Greene, a trumpet player who graduated from DePaul in 2014, was going to pursue his masters at the Curtis Institute of Music in Philadelphia.
Hundreds of students, friends and family members shared photos, stories and condolences on the students' Facebook pages Tuesday as news about their death spread.
Darneille's uncle, Frank Darneille, said Darneille's ability to touch other's could be seen by the hundreds of tributes posted on his Facebook wall.
"Ben's life was a tribute to the choice of joy in life," Darneille said. "He just really chose to live joyfully and to share that with everybody who cared to witness it."
Darneille is survived by his father, David Darneille of Springfield; his mother, Cherylee Bridges of Rochester; and brother Jason Williams of Rochester.
Efforts to reach the family of Greene have been unsuccessful.
Funeral Information for Ben Darneille 
Visitation Tuesday, Sept. 1 at 4 p.m. at Rochester United Methodist Church, 555 S. Walnut St., Rochester, Ill. 
Funeral Services, Wednesday, Sept. 2 at 11 a.m. at Rochester United Methodist Church, 555 S. Walnut St., Rochester, Ill.  
Both events are open to the public. 
View Comments (1)