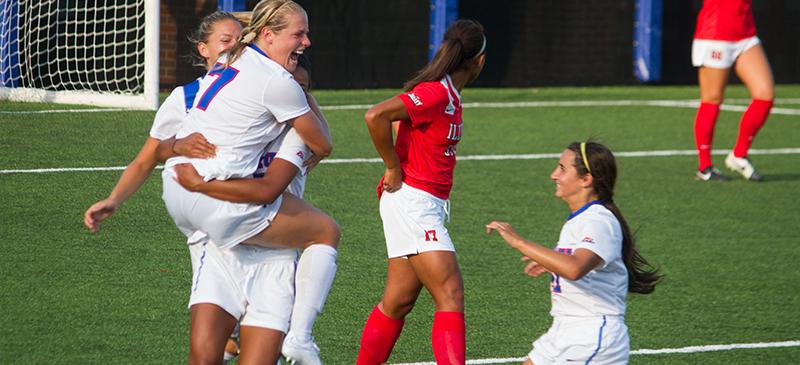 Fall sports are in full swing for the 2015-16 school year. DePaul volleyball and men's soccer got their first tastes of the new season this weekend, while women's soccer continued their early success at the Loyola Invitational.
Women's Soccer
Erin Chastain's squad hasn't missed a beat since going undefeated in the 2014 regular season, starting off 2015 with a 3-0-1 record. At the Loyola Invitational, they showed off their attacking abilities by dominating Eastern Michigan on Friday with a 7-0 final and they easily dispatched of Saint Francis on Sunday with a 5-0 scoreline. The 12-goal weekend set the DePaul record for most goals in consecutive games, breaking their old record of nine set in 2004.
Senior forward Elise Wyatt was the star of the weekend, scoring three goals in the first match and adding another pair on Sunday to bring her season total up to six. She now sits at 29 career goals, only four away from breaking the DePaul all-time scoring record, set by Julianne Sitch in 2006.
The No. 19/14 Blue Demons face off against Army at home on Friday afternoon before hosting Nebraska at 11 a.m. Sunday.
Volleyball
2014 was not kind to DePaul volleyball, which finished the season with a 3-25 record and ended the season with a 16-game losing streak. Already in the first weekend, DePaul is close to matching their win total from the previous year.
At the Western Illinois tournament, the Blue Demons fell in their first match Friday to Drake in a 3-1 defeat. Saturday, however, was much better for DePaul as they swept Southern Illinois University-Edwardsville 3-0 and ended the tournament with a 3-1 victory over hosts Western Illinois.
Senior Callie Huebener and sophomore Caitlyn Coffey made the all-tournament team. The Blue Demons open their home schedule with the DePaul Invitational starting Sept. 4, where they will take on Toledo, Evansville and Eastern Illinois over the weekend.
Men's Soccer
Nothing was working for DePaul men's soccer in their season opener against Elon. Playing at Duke University as part of the John Rennie Nike Invitational, DePaul fell 4-0 to the Phoenix in the Friday matchup. Their attack couldn't penetrate the back line of Elon and their defense was leaky, allowing them to score four goals in a 4-0 rout in the opener.
Their Sunday performance, however, was better. Their offense still wasn't clicking enough to score their first goal of the year, however they did hold the Blue Devils to only one goal and DePaul had a better attacking second half, getting six shots off as opposed to the two the put up in the first half.
DePaul has one more road match, traveling to Bradley on Sept. 4, before their home opener against Fordham on Sept. 6.