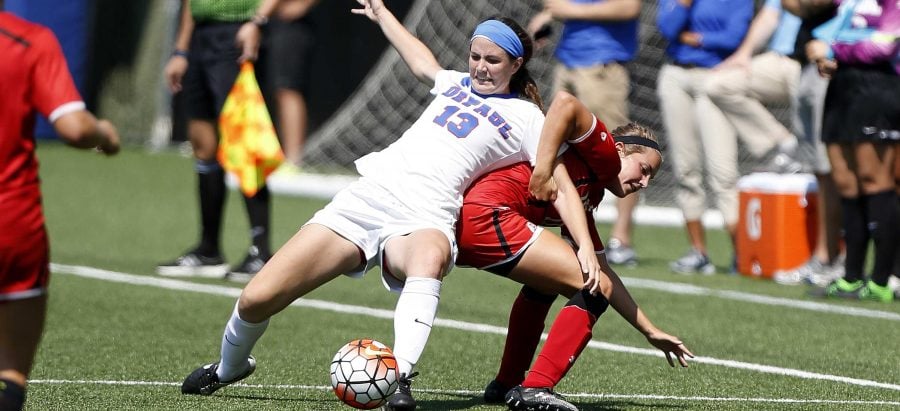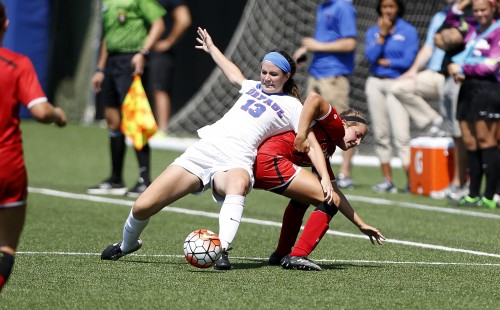 DePaul women's soccer finished 2014 undefeated in the regular season, losing only in the first round of the NCAA tournament to Wisconsin. Part of the success was a stingy defense that kept DePaul in games until their prolific offense was able to win the game on the attack.
When the season ended, however, DePaul graduated three starting senior defenders: Rachel Pitman, Nina Kodros and Sarah Gorden. Then, head coach Erin Chastain was contacted by Taylor Schissler.
"When (Schissler) was going through her initial recruiting process her junior year of high school she made a really early decision to go to Ohio State, so we didn't really have the opportunity to try and recruit her," Chastain said. "Sometimes kids go away and realize they'd rather be closer to home."
That was exactly the case for the New Lennox native Schissler. She played varsity soccer at Lincoln Way North in 2010 before switching to Lincoln Way Central for 2011 and 2012. She made the decision to go to Ohio State early in her recruiting process and felt that the distance was part of what made it the wrong fit.
"Both of my parents went to DePaul and it was nice to me that it was closer to home," she said. "Being four hours away was a lot harder than I thought it was going to be.
Her parents not only went to DePaul, but were athletes as well. Her father, Paul Schissler, played soccer for the Blue Demons from 1987-1990. Her mother, Jenni Schissler (Laczynski) was a softball standout that was inducted into the DePaul Hall of Fame in 2009. It was through their high praise of DePaul that Taylor Schissler decided to contact Chastain.
"My parents always talked so highly about the athletic department at DePaul and of the academics," she said. "I thought it would be a good fit."
Alongside the distance, there were other factors that went into her decision to transfer.
"I didn't agree with the coaching styles there," she said. "Here, it's not personal. It's very soccer related, but they still care about  you on a personal level, where they care how you're doing off the field as much as on the field."
She played defense her freshman year with the Buckeyes, starting ten matches and playing more than 900 minutes in her first year. Her second year saw a significant drop in minutes, starting only one match and only seeing 361 minutes in 2014. Her sophomore year, she was also moved to the front line where she would pressure people on the front lines.
"It was a hard adjustment since I hadn't played the position since junior high, so it's a very different game," she said. "Coming back here to play outside back, the position that I've really grown playing has been smooth."
For Schissler, the entire transition she says has been smooth.
"With transferring, there's always going to be an adjustment but it was really smooth," she said. "The girls here were very welcoming and helped me out. The coaching staff too, they welcomed me with open arms."
The coaching staff is happy to have her too. With an experienced defender as an addition to the back line, as well as Sarah Gorden getting an extra year on a redshirt waiver, DePaul's defense has been strong once again.
"I think she's obviously new to our team but she has a lot of collegiate experience," Chastain said. "She played a lot of minutes, especially her freshman year at Ohio State, against good opponents so we knew from an experience standpoint she'd be a good addition to our back line."
With the Blue Demons recording seven shutouts on the year already, it appears that not only is DePaul a good fit for Schissler, Schissler is a good fit for DePaul.
"She's done well for us," Chastain said. "She came in and earned the left back spot and has been really solid. We haven't allowed a lot of goals and I think she has a great mentality and she's tough to beat."