Review: The Fratellis at the Vic Theatre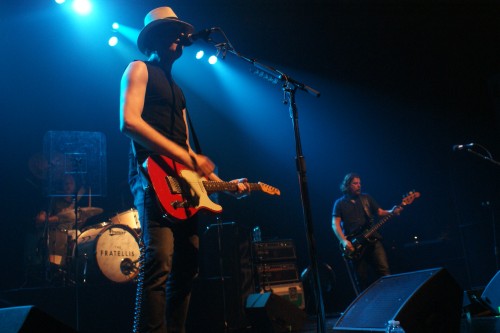 Most people weren't at The Fratellis show at the Vic Theatre on Sept. 24 to hear "Chelsea Dagger," but in Chicago, it's hard to deny the charm of the song.
Off of their 2006 debut album, the band's second single has become a hit with sports teams throughout the world, but especially took off in Chicago after it was chosen to be the goal song for the Blackhawks. While most people in Chicago have been chanting the chorus for years, it took The Fratellis a while to catch on.
"They've been using (Chelsea Dagger) for the last four or five years," Jon Fratelli, the frontman and vocalist of the band said in a phone interview with The DePaulia. "It took us a couple of years to catch on and realize they were using it."
It's hard not to notice the allure the song has among Blackhawks fans, especially after the team won their third Stanley Cup this past year. A few people in the Vic Theatre were decked out in Blackhawks gear, but for the most part fans were there to take in the Scottish garage rockers.
The band started off their set with the fan-favorite "Henrietta," off "Costello Music" before launching into "Baby Don't You Lie to Me," off of their latest album "Eyes Wide, Tongue Tied," which was released Aug. 21.
"We're under no illusion; you're always going to get a bit more of a reaction to the songs that people are familiar with," Fratelli said. "I think North American audiences are really patient, and they allow you the time and space to play the new songs. We also play all the old stuff, so they get that as well."
Fratelli stuck to his word, as the band masterfully played a set filled with songs from all of their four releases. The band worked together really well to produce a solid live performance, leaving people excited to check out their new album, if they haven't yet.
On their latest album, the band worked once again with producer Tony Hoffer, who produced "Costello Music." The band credits some of their success to Hoffer's immense talent in producing albums.
"We have to show up with the right songs," Fratelli said, "and if we put in a good enough performance every day in the studio, then we know we will come out with a record that we like because he's going to see to that. I still couldn't tell you what he does, I have no idea, I'm just happy to be in the room when it happens."
While putting out an album if understandably exciting, the band's focus now is on continuing their streak of stellar live shows, as they have tours booked throughout North America, Europe and Japan for the rest of the year.
"If people leave with a smile on their face then we know we've done our job," Fratelli said.
On Thursday night they certainly got their job done.