Trucking along: DePaul junior manages food truck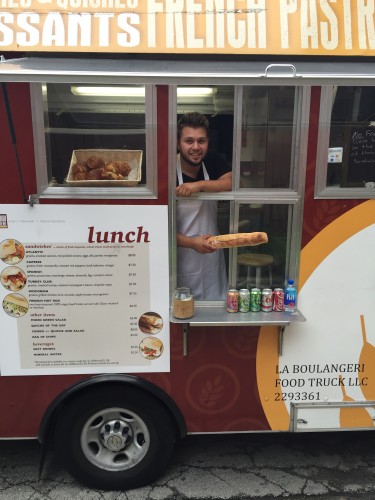 By 7 a.m., DePaul Theatre School student Mike Russo is on his way to DePaul's campus. Russo needs to make sure he gets a good parking spot, between Kenmore and Fullerton Avenues, on a two-way street, and at least 200 feet away from any place that sells food.
Russo works as the manager to La Boulangerie food truck from 7 a.m. to 2 p.m., leaving periodically to go to his classes.
Russo, who has been working in restaurants since he was 15, was looking to enter the world of food after working a construction job this summer.
"I had been out of work in the food industry and wanted to get back into cooking," Russo said. Russo answered a Craigslist ad seeking for a food truck manager and got the job.
As manager, Russo runs the day-to-day operations for the food truck owners while also managing another employee and prep cook.
Though previously located at the University of Chicago's campus, Russo is excited to make La Boulangerie food truck a staple on DePaul's campus.
"We just started at DePaul," Russo said. "We're usually at the University of Chicago but they're doing construction right now and they're displacing all the food trucks and have a pretty poor attitude towards us being out there."
Though Russo claims business has been slower at DePaul and their popularity with students remains minimal, Russo is confident in their ability to gain a following and provide a new food option for the community.
"I think what we do here is provide something that the neighborhood actually is really lacking, which is food that you can feel good about, for a cheap price, run by people, not a corporation," Russo said.
[box]Listen: News Editor Jessica Villagomez talks about La Boulangerie on Culture Shock[/box]
Located on the corner of Kenmore and Fullerton Avenues, the food truck has begun to gain regular student customers.
For DePaul student Chloe Baldwin, the convenience and the variety of food options the truck offers keeps her coming back.
"I eat here pretty often," Baldwin said. "I think the best part about it is that it's something different."
La Boulangerie is a "French café on wheels," offering coffee, pastries, croissants and sandwiches.
Menu items range from $2 to $8 and, the truck accepts both credit card and cash.
Though Russo hopes to pursue an acting career, he hopes to combine both his love of cooking and his desire to act. Russo offers cooking lessons and also has dabbled in catering services, catering special events such as weddings or parties.
"Cooking is definitely something that will always be in me," Russo said, "I definitely want to own a restaurant or a food truck one day."
Russo is hopeful in growing both the popularity and number of food trucks that come to DePaul's campus.
"Chicago has a very vibrant food truck scene where DePaul is lacking in it," Russo said, "I have a couple other food truck friends that I'd like to bring out here, we're going to be at DePaul as much as we can and I'd love to see DePaul become a food truck scene."
View Comments (3)