Larry Brown continues coaching after multiple infractions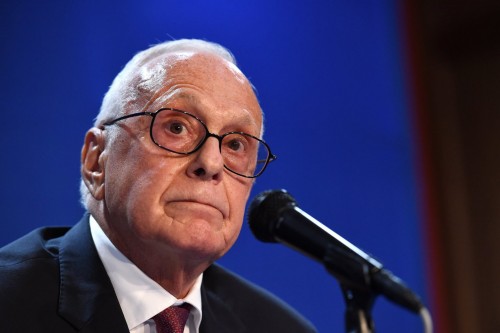 Southern Methodist University hasn't led much of anything since their football program was handed down the suspension, or "death penalty," back in 1987. However, they did just take first place in one list: the list of NCAA infractions.
Head men's basketball coach Larry Brown was suspended for nine games — this is the third time he's been sanctioned in his career — and SMU is banned from the 2016 postseason after going 27-10 in 2014-15. With academic fraud happening under his watch, he is being punished for the actions of his coaching staff as per NCAA guidelines. This may be excusable if it was the first time he had been in hot water.
His first coaching gig at UCLA led to wins being vacated because of an ineligible player. His next coaching gig at Kansas led them to getting banned from the 1989 postseason because of campus money being used for a potential transfer going home to see an ill grandmother. Both times, Brown was punished and left the school before the effects of the sanctions could affect him.
This time around, it's another case of a member of Brown's staff getting in trouble and Brown and the team earning the brunt of the punishment. After one time, the blame can adequately be placed on the assistant coach, but after three instances of a head coach earning sanctions, the blame can easily be placed on a head coach, allowing a culture among his staff that says skirting around the NCAA guidelines is allowable.
It brings in the question of why Larry Brown is still allowed to coach in the NCAA. Sure, the nine-game ban is hefty and certainly a punishment, as is the postseason ban, but the 76-year-old Brown will still return after those nine games, will still likely return for 2016-17 when the Mustangs will be postseason eligible again and will continue to associate himself and SMU with a reputation of scandal.
Brown is one of the most notable coaches in the NCAA right now. He has a reputation for turning losers into winners and has certainly done that with SMU. They made the NCAA tournament after turning in a 27-10 record last year and the year before that lost in the National Invitational Tournament. His reputation as coach that brings programs back from the dead has been evident at SMU and they have become a decent collegiate program under him.
However, that's only one of his reputations. When a history of sanctions and cheating follows him from school to school over the span of several decades, the idea that he should not be given chances like SMU has given him comes to the forefront of the discussion. He's not the only one, of course. There are coaches like John Calipari of Kentucky, who has had violations follow him from Massachusetts and to Memphis before he ended up with Kentucky. Wins were vacated with both teams and the biggest thing Calipari had in common with Brown is they both left when the water got hot.
Maybe it is time for the "death penalty." The sanctions are tough and will punish the coach and players, but maybe they aren't tough enough.