Review: "Sicario" fires on all cylinders
Hang on for a minute...we're trying to find some more stories you might like.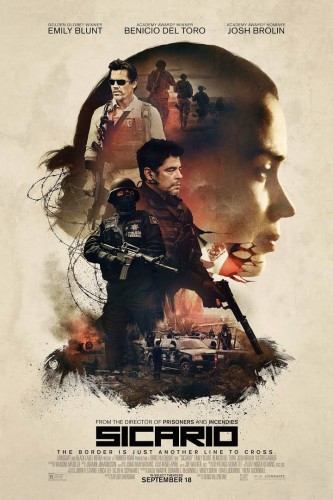 "Sicario," which translates to hit man in Latin American slang, comes from director Denis Villeneuve, who made quite a name for himself with his 2013 hit "Prisoners." This time around, Villeneuve is treading new ground as his latest film delves into the war on drugs at the border between the U.S. and Mexico.
Emily Blunt plays idealistic FBI agent Kate Macer who is enlisted by Matt Graver (Josh Brolin) to help combat cartel warfare in Juarez, Mexico. Graver is aided by a mysterious man named Alejandro (Benicio del Toro). After witnessing a series of traumatic events, Macer begins to question the ethicality of her mission and the motives of Matt and Alejandro.
From the very first scene, "Sicario" sinks its teeth in and doesn't let go.
Right off the bat, Kate Macer is introduced, and the viewer is shown what her job entails. It isn't pretty. Kate is a force to be reckoned with and always does what's right. Blunt, who proved herself in films like "Looper" and "Edge of Tomorrow," plays this hardened FBI agent with absolute subtlety and conviction.
Josh Brolin also shines as the head of Kate's new task force. He's a cowboy who does things his own way, and often butts heads with Kate. The two have excellent dialogue and build tension in every scene they share.
However, Benicio del Toro steals the show. Though he doesn't speak much, his character has a pain that he just can't seem to hide. His subdued performance will put chills down your spin, particularly in a scene toward the end of the film that will occupy your thoughts long after it is over. Expect to hear his name quite a bit in the coming Oscar race for Best Supporting Actor.
Aside from the award-worthy performances all around, the stakes are constantly being raised in this semi-fictionalized war between the FBI and the drug cartel. Even after a shootout at the U.S./Mexico border, things still feel as though they could get worse — and they do. The script is sharp and the pacing is near perfect. Screenwriter Taylor Sheridan knows his characters, their wants, their needs and their limits.
But perhaps the finest aspect of "Sicario" is the cinematography. The legendary Roger Deakins will certainly earn his 13th Oscar nomination, and perhaps his first win. The wide, alluring shots of desert landscapes serve as a beautifully desolate backdrop, while the nighttime scenes in the latter half of the film look stunningly natural and pristine.
Lastly, at the helm of the magnificent film is director Villeneuve, who meticulously pieces everything together with the utmost gravitas. "Sicario" is his finest work yet, and it's a film that should not be missed. The moral questions posed throughout the film surrounding the war on drugs and the concept of vengeance are extremely relevant and will linger in your mind long after the initial viewing. The subject matter may seem heavy, but it certainly makes for one hell of a movie.