Wrigleyville prepares for Cubs Wild Card game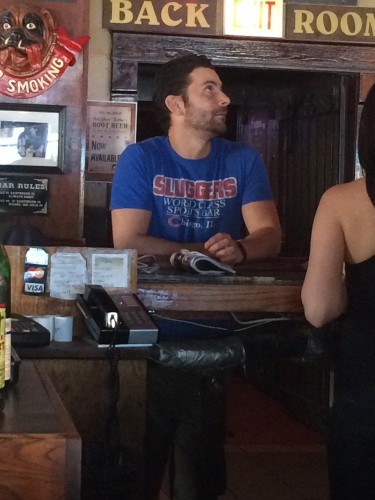 Hours before the anticipated start of the Cubs wildcard playoff game against the Pirates, carts of canned beer are wheeled into Wrigleyville staple, Sluggers sports bar, where general manager David Strauss scurries between the rooms giving final orders to staff.
"We've done this before," Strauss said. "In 30 years we've dealt with five Cubs playoff appearances, three outs from the World Series, two Super Bowls, six NBA titles, three Stanley Cup championships — we've got everything pretty much on lock down. We know what we're doing."
Blue "W's" are everywhere in Chicago, even on Dunkin Donuts, indicating that an entire city will be watching the Pittsburg game on TV at 7 p.m. To prepare for the crowds, and what many hope will be a cheerful celebration after a Cubs win, Strauss, family owner of the bar, brought "all hands on deck."
"Altogether we've got 10 security guys that are going to be at door, 15 bartenders and servers behind bars, eight waitresses and servers," Strauss said. "You know that every bar is going to be filled up. The neighborhood is going to be nuts, so safety is the priority."
Strauss said all drinks will be served in plastic containers and throughout the night he'll be in contact with the police department, the fire department and other bars.
"It's all about crowd control, really," Strauss said. "Everybody's kind of working together. That's the way to do it, especially on a big day."
Tim Woods, 63, has been a regular at Sluggers for 25 years. He used to join the pandemonium of Cubs playoff games, but tonight he's completely avoiding Wrigleyville.
"I don't know if you saw when the Blackhawks won," Woods said, gesturing out the window at Clark Street, where thousands of red jerseys stopped all traffic earlier this year, "except out there it will be blue."
[box]Read: DePaul Cubs fans stuck in class during Wild Card game[/box]
For Sandy Martinez, the only things keeping her from a spot in Sluggers for the game are her three kids at home.
"Tonight is the best game there possibly can be right now. It's the best thing that's happening around," Martinez said, looking out from under a Cubs visor. And for Martinez, 31, who has been a loyal Sluggers customer since her high school days, said Sluggers is "the number one spot to be."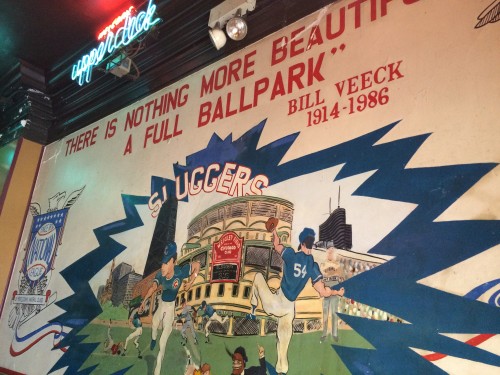 The atmosphere is fitting for sports fans. Every square inch of space on the walls are plastered with framed photographs of boxing, hockey and particularly baseball hall-of-famers. Two giant flat screens join the 15 other TVs around the main room, which at 1 p.m. looked empty with all the tables and chairs cleared out. Strauss said that by 5 p.m. the bar will be full.
"If they win tonight I think it will be not as crazy as the Blackhawks winning because it's still just one game," Strauss, a lifelong Cub fan said. "For them to win this game it's great, definitely worth celebrating and partying about, but there's still a lot of work to be done after this one game."
Despite the Cubs coming close to the playoffs and World Series in previous years, something about this year is different.
"I think the hype is definitely more exciting this year because the team is better and more solid than it's been in a long time and younger," Strauss said. "This year I think there is definitely more of an air of confidence because the team has played so well all season. So I think people are definitely more excited about it."
The nature of a one game playoff puts Strauss and other bar owners on Clark Street in a difficult position. They have to order enough alcohol to accommodate the crowds tonight, but they don't want to order too much, in case the Cubs lose and don't play Friday.
"But we've loaded up for one crazy, busy night," Strauss said. "If they do win we'll load up on as much stuff as we can fit in the building."
All Strauss, and all the Cubs fans watching tonight, can do is wait and see.
View Comments (1)