Review: DIIV's dreamy aesthetic glows at Thalia Hall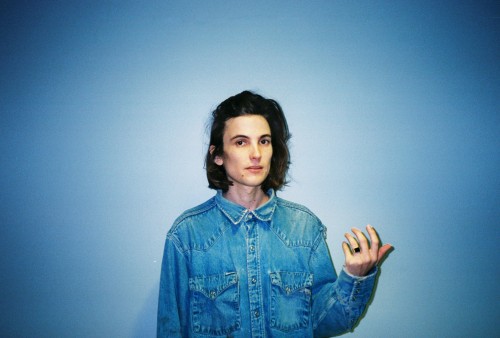 On Oct. 12, people made their way to Pilsen to see Zachary Cole Smith's dreamy pop project, DIIV. A gorgeous, memorable set by DIIV was introduced by Sunflower Bean and No Joy.
Sunflower Bean, a lo-fi garage rock trio out of New York, was the first opener of the night. Despite my own appreciation for their music, the band is mostly associated with Tumblr aesthetics and fashion. At first glance, Sunflower Bean fits this stereotype. Julia Cumming (who also models) is tall, elegantly thin and dressed in all black and completed with a choker. Jacob Faber (drums) hid behind a waterfall of dark hair and Nick Kivlen matched the shadowy color scheme while strumming along on guitar. Although their appearance is what the crowd expected, their talent isn't. Cumming softly cooed into the microphone while Faber confidently pounded away on the drum set behind her. Sunflower Bean would probably more appropriately fit a set that included the likes of more psych-influenced bands like King Gizzard & The Lizard Wizards or King Tuff, but they weren't a bad choice to open for DIIV.
No Joy was a little lull before the much anticipated DIIV. It was obvious why they were included on the bill as soon as they started playing their gloomy shoe gaze, but the audience didn't react until towards the end of their set, when the music became much more noisey and out of control. It didn't exactly let down the hype for the headliner, but it didn't do much to excite.
Thalia Hall, which was originally designed as an opera house, seemed to be custom made specifically for the New York City band.  DIIV's beautiful and natural stage presence was emphasized by soft, pastel lights floating over the crowd, elegant and intricate crown molding lining the stage, and enough room on stage for all five members to move around freely. It fits the quintet's performance: the grainy home videos of Smith's girlfriend, Sky Ferriera, and other random scenes playing on the backdrop, the peculiar, glowing guitar of Andrew Bailey, and the almost liquefied way Smith's vocals wave out into the audience.
Plenty of fans seemed to mimic DIIV's slacker indie boy appearance, making a conscious effort to look like they hadn't showered in a week while lankily bobbing around during the show. Then there was the standouts- the ones who shouted nearly every lyric and then grew silent to soak in the new music that they had been fervently and painfully waiting for.
Even though it's sometime difficult to decipher exactly what front man Cole Smith is crooning, his openness and vulnerability makes his emotions ebb through. Albeit slight and delicate in appearance (his oversized clothing swallows him up), Smith has a powerful talent of being able to take the atmosphere of the venue from hauntingly dark to sweetly and happily ethereal throughout the set.