First democratic debate: battle of the 'progressives'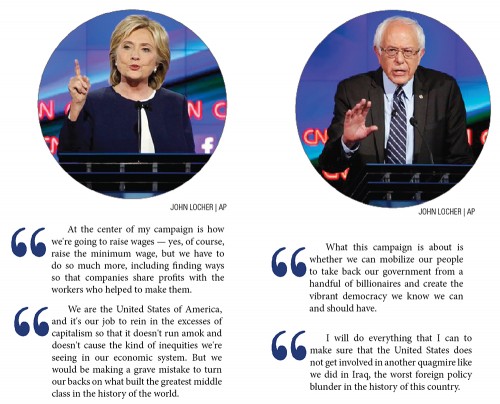 The Democratic debate on Tuesday night in Las Vegas illuminated the stark contrast between the Democratic and Republican candidates, as well as the competition between Sen. Bernie Sanders of Vermont and former Secretary of State Hillary Clinton.
The Democratic candidates show respect to each other on stage; as Clinton put it, "We agree on the goals, we just disagree on the means." Exchanging smiles and acknowledging each other's political accomplishments, the candidates discussed the ways in which this country can mend itself, differing on approach while concurring on the objective: to cure this country of economic and social injustice.
Standing as Clinton's main competition, Sanders represents an ideal of progressive liberalism, a self-proclaimed democratic socialist. Throughout his political career, he has persisted in his liberal stances on issues such as marriage equality, income inequality and climate change even in times of popular conservatism.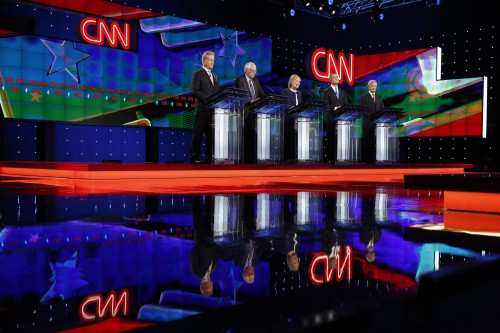 In regards to foreign policy, Sanders said he will do "whatever possible" to keep the U.S. out of Syria, for fear of it becoming another Iraq. On gun control he was the most lenient of the candidates. He has been consistent in his stance. This consistency is a virtue that Clinton cannot share. Moderator Anderson Cooper posed a pointed first question to her: "Will you say anything to get elected?" According to an AP Fact Check, Clinton supported opposition to gay marriage and the Trans-Pacific Partnership in the past — issues she now proclaims she is stoically liberal on.
Clinton's long career in politics showed itself in her debate skills; she defended herself articulately when interrogated, and, as the debate went on, it became more evident that Clinton is the most conservative of the candidates.  Everyone on stage agreed it is far more salient to scrutinize Clinton's platform; she insisted the gun control legislation and the NRA need to be reigned in more than Sanders proposed. The next Democratic debate is Nov. 14 at Drake University in Iowa.
View Comments (1)