DePaul women's basketball begins season on top again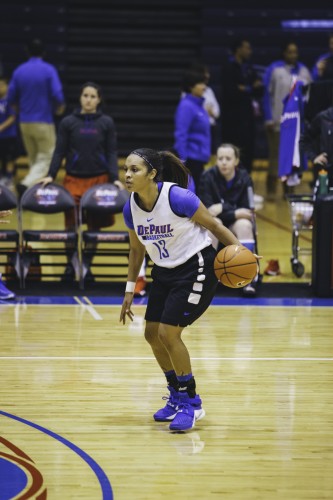 DePaul women's basketball is limping towards the season opener as injuries have hampered the defending Big East Champions.
"I really think we have a chance to be very good," head coach Doug Bruno said. "We have to be whole. We've got eight or nine really quality players but they all have to be healthy and available."
Freshman guard Tanita Allen, sophomore guard Lauren Prochaska and freshman guard Megan Waldron all sat out of the scrimmage due injuries. Prochaska, however, is due back next week.
The scrimmage also included sophomore guard Amarah Coleman and junior forward Jacqui Grant, who are ineligble to play in 2015-16 after transferring from Illinois. That left only nine eligible players for the scrimmage.
Regardless of the injuries, the Big East coaches still believe the Blue Demons are contenders for the conference once again. They were voted by the Big East coaches to win the Big East for the third season in a row. The Blue Demons have proved the coaches correct the past two seasons, winning both the regular season and tournament titles.
"I think that we see a lot of growth and a lot of expectations out of the sophomores that are returning, as well as the transfers and our freshman Tanita Allen," senior guard Chanise Jenkins said.
While the injuries certainly haven't helped the Blue Demons in practice, they are  focusing on who can practice, rather than who can't.
"We certainly miss the people that are hurt, but at the same time you can't focus on what's bad that's happening," Jenkins said. "Other people have to step up and fill those roles that we are missing."
Lauren Prochaska, a sophomore guard who was one of the players who sat out the scrimmage, said that Bruno tells her if she's not practicing with her body, she should be practicing with her mind.
"(Bruno tells us) to stay focused on the practice and to stay focused on the drills," she said. "So that when we can participate and come back in we can stay mentally there."
Prochaska is poised to have more of a role in this year's team with one year of experience under her belt and the graduation of guards Brittany Hrynko and Megan Rogowski.
"I'm trying to work on my offensive game to become a more offensive threat," she said. "I've been trying to keep my confidence levels up and playing with the older girls helps."
The team worked together over the summer to get acqainted and to build team chemistry.
"It was a lot of open gyms, playing with teammates and trying to get each other better," Prochaska said.
Still, playing together and getting better is a focus in these first couple of weeks.
"(We're working on) cohesion and fitting in with different people on the team," Jenkins said. "As well as defensive rebounding, which can always be better."