DePaul band Brisco Darling hits garage rock scene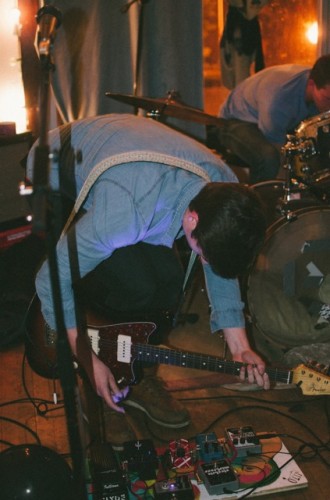 DePaul philosophy major Jesse Stell clutches a mic stand, spitting into it as he swings it back and forth. His sweat glistens off his body and visibly soaks his white T-shirt from a few feet away as he screams his song "John McGovernment" in the living room of his friend's house.
Standing to the right and slightly behind him Duncan Lee is wearing an unbuttoned shirt. He, also, shimmies while his chest drips sweat and he leans over his keyboard. His eyes squint as the smoke from the cigarette dangling from the side of his mouth reaches them. Shaking his head back and forth, either from feeling the music or straining his vision from his cigarettes smoke, he faces bassist Joe Stauffer.
Playing his bass guitar with bright pink cheeks and a glossy eyed look. Stauffer stares off above the equally sweaty crowd and drunkenly staggers and falls over still holding his bass.
Drummer Connor 'Socks' Pierce bangs his drum sticks, not holding back any arm strength.
In front of him, Jack Hiltabidle plays lead guitar for the band with a wide smile on his face as he pushes the peddle on the ground.
House shows for Brisco Darling, or any other local Chicago band, typically follow this kind of route; sweaty, loud, filled with the stench of cheap beer and screaming. These shows exemplify rowdiness at its best and Brisco Darling loves everything about the chaos they have the power to create.
The band is a little messy, just like their self-described sound.
Band members Hiltabidle, Stell and Stauffer attend DePaul as juniors. The three manage their personal and academic responsibilities while creating what they describe as a temporarily "rock n' roll" and "heavy punk" sound for their band Brisco Darling.
The band name came to art history major Stauffer while he was sitting in his family home in Chicago's south suburb of Beverly watching The Andy Griffith Show with his parents.
"There's a character in the show named Briscoe Darling. He's a really funny old hillbilly who wears overalls and has a scruffy face," Stauffer said. "I told Jesse the idea and he liked it so we named our band Brisco Darling, we just took out the E because it looked better without it."
Stauffer and Stell met as freshmen living in the same floor of Clifton-Fullerton. The two friends were introduced to Hiltabidle by their mutual friend Niki Urell.
Later, Pierce and Lee came into the picture. As they bonded over their love of artists like David Bowie, The Beach Boys and The Beatles, they began to jam together. And for the past year, Stauffer pitched band name ideas to Stell until Brisco Darling hit the spot.
"When we found the band name, that's when the music started happening," said Joe.
Stell is an intensely passionate singer.Hitabitle shreds at guitar. Stauffer is an intelligent bass player knowing what to play over chord changes — not a show off, he plays solid lines. Pierce is a determined drummer, showing he's in the zone with the steady look in his eye while he plays. Lee is a dancer, with his body movements displaying how into the music he is.
All five members have been fiddling with music since childhood. Stell remembers writing music since he was 11 years old and began playing folk music when he was younger.
"I had around nine or 10 wooden instruments," Stell said. "I used to own a fiddle, but then I broke it over someone's back."
Hiltabidle began playing guitar because his uncle played and his grandfather was a musician. He began singing with his friends, and taught himself how to play shortly afterward with a guitar he built himself with the help of his father.
Stauffer began creating music with his best friend in his father's old tool room in his basement. He found his niche in bass when he was at Guitar Center skimming guitars and he noticed one had four strings. He picked it up and it "just felt right." Seven years later his Gibson SG bass proves he was right.
As for non-DePaul band members, Pierce and Lee, the same can be said.
"(Pierce) and (Lee) are two of the best musicians I've ever played with, really creative guys who know what's good for the song," Hiltabidle said.
After finding a name to themselves they began to write, practice and play shows in June and since then they have slowly began emerging into the local Chicago rock scene.
Having close friendships with Modern Vices, a band comprised of former DePaul students, and being in the same ropes as Chicago garage rock bands Twin Peaks and The Orwells, helps the band aspire to be professional musicians one day.
As of now, Brisco Darling has played with Chicago bands Yoko and the Oh No's, Strange Faces and The Walter at either rowdy house shows or smaller venues such as Subterranean and Township.
As they practiced more than twice each week this summer in either the band member's basements or their studio in Humboldt Park, they have five official written songs and are in the works of finding a definite new sound.
"We normally would go into the studio and start jamming at the same time. After around 20 minutes we would practice a few of our own songs then from there we would break into a jam and get stuck there for another 20 minutes," Stauffer said.
It's the pains of an upcoming band. The struggle of finding who they are through the sound they are creating.
Close friend of Brisco Darling, DePaul student Joey Porter supports their mission to make it in a city where underground rock and roll bands are bubbling with potential.
"They're all great musicians, they have great potential. They just need to get their name out there," Porter said. "If they do that they would get a good chance of getting signed. We know a lot of Chicago bands getting signed and making moves. Why not them?"
Plans for Brisco Darling's future involves touring with their friends in Modern Vices and attending festivals such as South by Southwest, FYF Fest and CMJ Music Marathon. A complete recorded album is hoped to be produced by spring of this year.
About the Contributor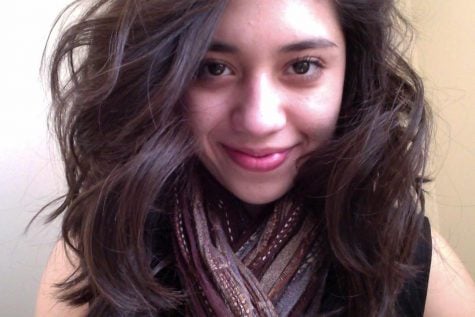 Yazmin Dominguez, Online Editor
Yazmin is the online editor of The DePaulia. She enjoys house music, storytelling, tough editors, and people who can make her laugh. Follow her on Twitter...