DePaul basketball needs to fill city's power vacuum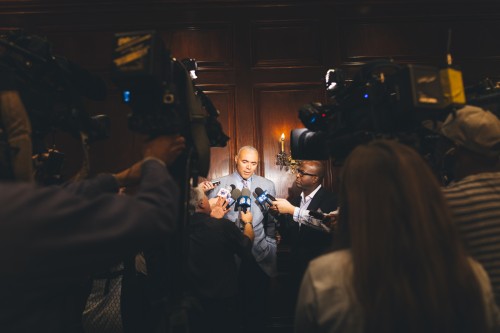 There's a void in the Chicago college basketball right now. Five men's basketball coaches from Chicago schools – DePaul, Chicago State, Northwestern, Illinois-Chicago and Loyola Chicago – spoke at the annual Chicago College Basketball Luncheon Friday and, despite the city's reputation for basketball, none of the teams have made the NCAA tournament in the past decade.
There was a striking resemblance between DePaul head coach Dave Leitao and UIC head coach Steve McClain. Both are starting again with new teams this year, both spent the past seasons as assistant coaches and both recognize the potential of Chicago.
Leitao has spoken in the past and continues to speak of changing the culture at DePaul; building a foundation and returning DePaul back to respectability.
"We're here to turn things around as quickly as we can," Leitao said.
DePaul has the history of a great basketball program, something none of the other schools vying to gain the city's attention have. Although that reputation has dwindled in the past quarter century, that reputation has them playing in the largest arena of the Chicago teams and also has them in one of the better basketball conferences in the nation. If results were not a factor, they would be the top contender for Chicago right now; a city team that was accessible to the suburbs.
In Chicago, DePaul is not alone with poor results in recent years. Northwestern has never made the NCAA tournament. Loyola has been absent from the tournament since 1985 and Chicago State does not even qualify for the NCAA tournament. UIC and DePaul both  made their last tournament in 2004. College basketball has been mostly irrelevant in Chicago for the hometown teams for the past decade.
"This city needs to get an NCAA appearance again," Chicago State head coach Tracy Dildy said. "And we want to do that."
Making the NCAA tournament is easier said than done, as evidenced by the lack of appearances from the Chicago teams. However, there are teams seemingly making headway. Loyola won the College Basketball Invitational in 2015 and UIC's new head coach Steve McClain was an assistant under Big Ten powerhouse Indiana. He understands the importance of building a program in Chicago, by Chicago.
"The parts that made all of these programs great, like Mark Aguire, started right here." he said.   
Leitao has spoken in the past about turning DePaul around, changing the culture and bulding a foundation for future success. With the city at a crossroads right now in terms of college basketball, DePaul needs to take the opportunity to take the top spot in the city when everyone is still on relatively even ground.
A DePaul program ressurected, possibly with an NIT or NCAA tournament appearance under their belts before they move into the new arena would be huge for the future. But it needs to start this season, and it needs to start locally.