First lady Michelle Obama to make solo visit to Middle East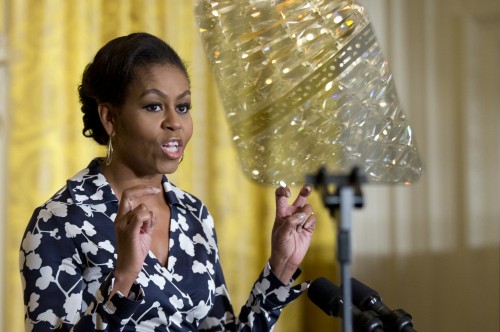 WASHINGTON (AP) — Michelle Obama will spend next week in Qatar and Jordan to promote her global education initiative for girls, the White House announced Wednesday. It will be her first official visit to the Middle East.
In Doha, Qatar, Mrs. Obama is scheduled to speak about the Let Girls Learn initiative at the 2015 World Innovation Summit for Education, which draws education leaders from the region and around the world.
She will also visit service members stationed at Al Udeid Air Base as part of her separate initiative to support U.S. military families.
In Amman, Jordan, the first lady will tour a school that was built with money and technical support provided by the U.S. Agency for International Development, as well as meet with adolescent girls who are students there. Many schools in Jordan are educating more and more Syrian children, many of whom have crossed the border into Jordan with their families to flee violence fueled by the civil war in their home country.
While in Jordan, Mrs. Obama plans a cultural stop to see Petra, one of the world's most famous archaeological sites.
Mrs. Obama plans official meetings in both countries. She'll travel without the president, her daughters or other immediate family members.
President Barack Obama and the first lady launched Let Girls Learn this year to encourage the leaders of other countries to provide opportunities for education to the estimated 62 million girls around the world who do not attend school.
Since March, Mrs. Obama has traveled to Japan, Cambodia and Britain to promote the initiative and recognize new partnerships.
She appeared at the White House last week with Pakistan Prime Minister Nawaz Sharif's wife to announce a new girls' education partnership with that country. South Korea, Britain and Japan have also announced pledges of money and other support to further girls' education in their countries.