DePaul Theatre School's "Joe Turner's Come and Gone" explores race, identity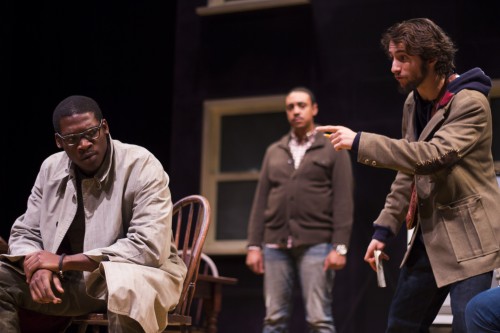 When DePaul student Bernard Gilbert walks down the street in Lincoln Park, he doesn't always feel like he belongs. Like his character Herald Loomis and as a young African-American man, he said sometimes it is like he is in someone else's world.
"With Black Lives Matter and police relations with certain groups of people, I feel like I can't be my whole self all the time," he said. "I feel like I need to negotiate and mitigate. I can't be too this, or too that."
It is what makes "Joe Turner's Come and Gone," which runs at The Theatre School through Nov. 15, an especially poignant work for Gilbert. The play speaks to the African-American experience post-slavery, but the experience of reclaiming humanity in the face of oppression are still relevant today, especially in light of heated racial relations.
"When cops shoot and kill a black man, who is unarmed, that's somebody's son, that's somebody's father," MFA student Jeri Marshall, who plays Bertha Holly, said. "These aren't just black people. They're human beings. I think that this play is trying to highlight the humanity of these people."
The play is the second in esteemed playwright August Wilson's "Pittsburgh Cycle," a series of 10 plays that give a decade-by-decade account of 20th century African-American life. "Joe Turner's Come and Gone" chronicles the lives of freed slaves as they travel northward in 1911, finding a temporary home in a Pittsburgh boardinghouse.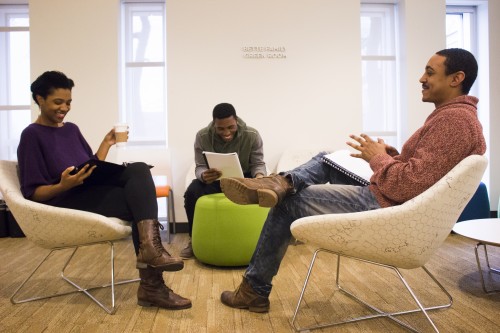 The Theatre School's production comes in a year in which many Chicago theaters have celebrated Wilson's work during The Goodman Theatre's August Wilson celebration last spring.
Though the school produced "In the Heights," a predominately Latino musical, last year, it last produced an August Wilson work in 2006. "Joe Turner's Come and Gone" features an almost entirely African-American cast, which Marshall said is reflective of her MFA class.
Still, 70 percent of the entire student body at The Theatre School is white, and 12 percent is African-American.
"We don't have enough plays that speak to African-American life on the main stages – or even in some of our smaller studio productions," she said. "Now it's time to do something that reflects the student body."
Wilson's work is thematically thick and poetic, requiring a certain vulnerability that has brought the cast closer, Gilbert said. His character, Herald Loomis, is a former slave freed after seven years of service to Joe Turner. Though Loomis is no longer physically bound by an owner, the trauma of slavery still binds his spirit.
"It's a very vulnerable place to be in, and it's a scary role to play," he said. "All of the roles in the play are hard to approach, because you have to expose a bit of yourself. There's something about these characters. They shed light on types of people, African-Americans that historically have been looked over and forgotten about."
For costume designer Meg Burke, the research process has also been especially emotional, at times. Besides understanding the dress of the period – a difficulty in itself because 1911 fashion was in flux – she needed to recreate the physical wounds of slavery.
"It's been rough, emotionally," she said. "I had to do a lot of research on what whipping scars might have looked like had they been aged for 40 years. There was one day that, for an hour I was just looking at back scars."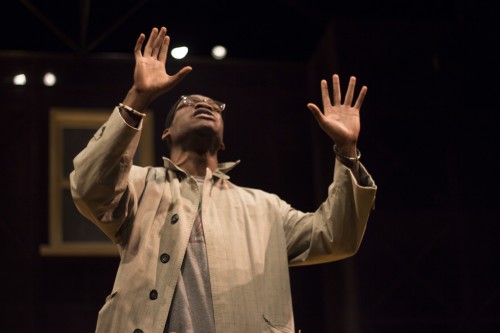 A native Texan of Irish-American descent, Burke said the Great Migration and the African-American experience was glossed over in school. Working with Wilson's play has been eye-opening.
"August Wilson is important because he brings up a lot of discussion for race and equality and really getting to know what America really is," she said. "It's happy things, it's really interesting things and sometimes it's really sad. But it's an emotional play."
"Joe Turner's Come and Gone" is not only about highlighting historical truths, Marshall said, but highlighting humanity and evoking empathy.
"It's not meant to guilt anybody, but to enlighten, and for people to understand how far this goes back," she said. "People say, 'slavery's over.' It is, but the remnants of it clearly aren't."
Even as an African-American man living over 100 years later than Loomis, Gilbert said feels those reverberations. Oppression is not unique to slavery, and the search for identity is universal.
"It's a timeless piece of art," Gilbert said. "There will always be somebody who feels like they're ostracized or being pushed out of something, or not quite fitting and wanting to fit. This piece allows people to look and reflect on themselves."
"Joe Turner's Come and Gone"
The Theatre School at DePaul University
Fullerton Stage
Nov. 6 – 15
View Comments (1)